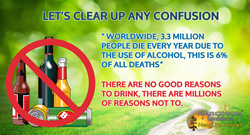 Narconon Louisiana implores parents to aggressively take action to reverse this trend during the 100 deadliest days for teenagers
Denham Springs, LA (PRWEB) July 29, 2014
Historically, Memorial Day kicks off a three month long holiday across the United States usually celebrated throughout that time by picnics, barbecues and beach outings. More recently though, those summer days now mark the start of a period that will witness a significant increase in crashes involving teen drivers. In 2012 nearly 1.000 people were killed in crashes involving teen drivers during the period from Memorial Day to Labor Day.
The summer's warmer weather, longer days and better visibility all add up to longer periods of time behind the wheel. And when that increased time behind the wheel is enjoyed while under the influence of alcohol, the price is far too high. According to the Substance Abuse and Mental Health Services Administration (SAMHSA), teenagers are more likely to have their first alcoholic beverage during June and July than any other month.
The dangers of drinking and driving have never been more pronounced as evidenced in the fact that what was once called the 100 Days of Summer is now referred to as the 100 Deadliest Days.
During 2010, an estimated 5.8% of teens ages 16 and 17, and 15.1% of 18 to 20 year olds reported driving under the influence of alcohol, according to the US Department of Health and Human Services. Additionally the U.S. Department of Transportation reports a total of 3,115 teens ages 13-19 died in motor vehicle crashes that year.
Narconon Louisiana implores parents to aggressively take action to reverse this trend during the 100 Deadliest Days for teenagers.
In order to assist the public in identifying and handling alcohol addiction, New Life Retreat has published information on the web and education materials are available. Please visit our website or call (800) 473-0930 to find out more.
About Narconon Louisiana New Life Retreat
Narconon Louisiana, was founded in 2006 following the devastation of Hurricane Katrina in an effort to help the thousands of residents affected by addiction who had no available resources. Located on approximately 15 wooded acres in Denham Springs, it is a non-profit alcohol and drug rehabilitation center licensed by the State of Louisiana. The Narconon drug rehabilitation and education program was founded in 1966 by William Benitez and uses the drug-free rehabilitation and social education methodology based on research developed by American author and humanitarian, L. Ron Hubbard. They are dedicated to eliminating alcohol and addiction through drug prevention education and rehabilitation.