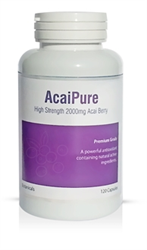 (PRWEB UK) 31 July 2014
Acai berries have long been used in traditional medicine by Amazonian tribesmen for centuries, and now scientific research has validated the health benefits of the powerful superberry. New research has found that Acai Berry extracts have a cardio-protective effect.
The study conducted by leading researchers at the Federal University in Rio de Janeiro looked into the physiological benefits of Acai berry extracts on heart health. Experiments were conducted on rats as a model organism for human cardiovascular health as the physiology is remarkable similar between the species. The conclusions of the study established that Acai berries protected the cardiovascular system and improved recovery following heart attacks (1).
Scientists looked at exercise tolerance following myocardial infarctions as an indication of heart health. The researchers firstly looked at the maximum running distance possible following a myocardial infarction in test subjects. It was found that if Acai berry extract supplements were given to the test subjects, there was a greater than four-fold increase in the maximum running distance (1). This shows that with supplementation of Acai berry extract, the deleterious effects of heart attacks can be reversed and to some extent restore cardiovascular function.
The cardio-protective effects of Acai berry extracts also extend to heath benefits on the circulatory system as it helps to improve systolic blood pressure. Systolic blood pressure was impaired following an infarct however the research has shown that Acia berry extract supplementation can help to restore function (1). The mechanisms by which Acai berries have this effect is through to be through its potent anti-oxidant and anti-inflammatory properties.
"Previous scientific studies have established that Acai berry extracts helped to reduce serum cholesterol levels in subjects with a hypercholesterolemic diet. This established that Acai berry extracts reduce the chances of heart attacks by lowering blood cholesterol levels and now this research has shown it to aid recovery following heart attacks too," says Vitamin Planets Senior Nutritionist, David Abersythe (2). Vitamin Planet supply a concentrated, high purity Acai Berry Extract, AcaiPure. Each capsule provides a high dose of 2000mg pure Acai Berry that has been extract from premium grade Acai berries to support cardiovascular supplements. It is available to purchase online at http://www.vitaminplanet.co.uk/acaipure-acai-berry-2000mg-p-178061.aspx (3).
A strong scientific profile has been built up which highlights the importance of Acai berry extract supplementation in protecting against heart disease and also in preventing cardiovascular impairment following a myocardial infarction.
(1) http://www.biomedcentral.com/1472-6882/14/227 (July 2014)
(2) http://www.vitaminplanet.co.uk/blog/new-research-shows-acai-berries-promote-heart-health/
(3) http://www.vitaminplanet.co.uk/acaipure-acai-berry-2000mg-p-178061.aspx