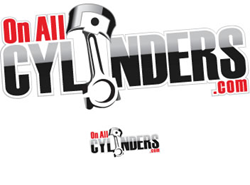 Tallmadge, OH (PRWEB) July 31, 2014
The tireless bloggers at Summit Racing's OnAllCylinders have added lots of new parts installation stories, how-to videos, tech tips, and tech Q&A. Check out the latest tech from manufacturers and some of the top men in the performance biz—guys like Jeff Smith, John Gilbert, Jim Brightly, and Steve Baur.
HOW TO SPRAY AUTO AIR COLORS WATER-BASED PAINT
Street rod and classic truck veteran John Gilbert goes back to school—Riverside, California City College's auto body program, to be exact—to help the students lay down a classic satin black finish on a Dodge D-100 using Auto Air Colors and Summit Racing paint products.
QUICK FLICKS VIDEO: AIR AND FUEL UPGRADES FOR DIESEL ENGINES
The OnAllCylinders staff put together this video to show diesel enthusiasts how to improve performance, towing capability, and fuel mileage with a cold air intake, exhaust system, and a performance tuner—and for a very affordable price.
OPTIMIZING A TURBO WITH A CAT-BACK EXHAUST AND COLD AIR INTAKE
Steve Baur may be a Mustang guy, but he knows a thing or two about turbocharged tuner cars. He'll show you how to optimize the performance potential of the awesome Subaru WRX with MagnaFlow Performance Exhaust Kit, an Injen Catted Downpipe, and a K&N Typhoon Series Cold Air Intake.
INSTALLING A RIPP SUPERCHARGER ON A JEEP JK
Summit Racing now offers the world's first supercharger systems for Jeep Wrangler JKs from RIPP Superchargers. These systems boost the power output of the rather anemic 3.8L and 3.6L V6s found under the JK's hood that nearly equal the popular 5.7L Hemi swap—and for a lot less cash.
INSTALLING A SUMMIT RACING REAR DISC BRAKE CONVERSION
Everybody's favorite hot rodder, Jeff Smith, shows you how easy it is to convert a GM 12-bolt rear axle to rear disc brakes with a Summit Racing Rear Disc Brake Conversion. The kit is a great way to upgrade from those dusty old drum brakes and improve stopping performance for an affordable price. What's not to like?
The OnAllCylinders staff is always adding tech and how-to articles, so it pays to visit the blog often to see the latest stories and videos. Also, make time to check out the entire tech library as well as the event coverage, racing news, car features, and other gearhead fun.
SEE THE LATEST TECH STORIES AT ONALLCYLINDERS.
Summit Racing Equipment
http://www.SummitRacing.com
1-800-230-3030