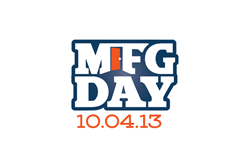 Rockford, Illinois (PRWEB) July 29, 2014
Manufacturing Day, the annual celebration of manufacturing in North America, kicks off its official video contest today, July 28, 2014. Designed to capture the enthusiasm Manufacturing Day hosts have for manufacturing and the annual celebration which gives them an opportunity to showcase modern manufacturing to the public, the video contest will accept entries through August 20, 2014. All 834 companies and organizations that participated in Manufacturing Day 2013 are eligible to enter, as are organizations that plan to host Manufacturing Day events this year.
Five regional winners will be selected and from that group one national winner will take top honors. All five winners will have their videos featured on the official Manufacturing Day website, Facebook page, and YouTube channel. In addition, all five winners will receive a complimentary public showing license for American Made Movie, the official Movie Partner of Manufacturing Day. Winners can schedule a public showing of this full-length feature documentary and use it as a fundraising opportunity to assist educational programs in their community that introduce students to manufacturing concepts and technologies. In addition to the license, winners will also receive signage and other resources to use during their 2014 Manufacturing Day event.
The contest application can be found at http://www.mfgday.com/video-contest along with complete contest details and requirements.
Manufacturing Day is an annual national event, executed at the local level, that supports hundreds of manufacturers across the nation as they host students, teachers, parents, job seekers and other local community members at open houses designed to showcase modern manufacturing technology and careers. A panel of co-producers comprised of the Fabricators & Manufacturers Association, International (FMA), the National Association of Manufacturers (NAM), the Manufacturing Institute (MI), the National Institute of Standards and Technology's (NIST) Hollings Manufacturing Extension Partnership (MEP), and guest producer Industrial Strength Marketing (ISM) provide the centralized support necessary to coordinate this nationwide array of simultaneous events. The national media partner for the event is the Science Channel and the national movie partner is American Made Movie.
View an up-to-date list of Manufacturing Day 2014 events and learn how to plan a Manufacturing Day event at http://www.mfgday.com.
For more information about the organizations behind Manufacturing Day, please contact:
Fabricators & Manufacturers Association, Intl.
Patricia Lee
Director of Marketing
(815) 227-8286
patl(at)fmanet(dot)org
National Institute of Standards & Technology
Jennifer Huergo
Director of Media Relations
(301) 975-6343
jennifer(dot)huergo(at)nist(dot)gov
National Association of Manufacturers and
The Manufacturing Institute
Matt Lavoie
Senior Director of Media Relations, Communications
(202) 637-3085
mlavoie(at)nam(dot)org
Industrial Strength Marketing
Joey Strawn
Integrated Marketing Director
(866) 529-8908
joey(at)marketstrong(dot)com
The Science Channel
Joanne Schioppi
Director of Communications
(212) 548-5084
joanne_schioppi(at)discovery(dot)com
American Made Movie
Trey Ditto
Ditto Public Affairs
(512) 619-1343
trey(at)dittopublicaffairs(dot)com