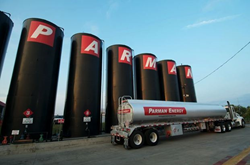 "We are thrilled to be recognized for our growth by the Nashville Business Journal. Parman Energy is proud to be a part of this group of leading private companies in Middle Tennessee." -Steve Moore, President and CEO
Nashville, TN (PRWEB) August 07, 2014
On July 23, 2014, the Nashville Business Journal announced the winners of the 2014 25 Fastest-Growing Private Companies and Parman Energy made the list. To compile the list, the NBJ started with a list of the area's top 100 top private companies and then ranked them by the greatest revenue growth over the past three years.
Parman Energy has been focused on growth in many areas including geography, business lines, and top talent. This mindset is shared by the entire company and is driven down from the top. Most recently, they announced a Grand Opening for their Memphis location for late September.
About Parman Energy
Parman Energy is the most capable, reliable and dynamic source for quality petroleum products and DEF in the southeastern region of the United States. We differentiate ourselves from our competitors by our commitment to excellence on an everyday basis. This commitment is demonstrated by the company's continual investment in new technologies and ongoing infrastructure improvements, by our recognition in the industry as the market leader and by daily actions of our employees. It is our goal to offer increased value to our customers through quality services, products and partnerships.