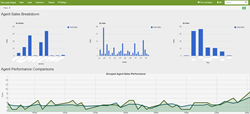 'The TLD CRM system is without a doubt the best insurance sales system I have used. Our call center is consistently producing great numbers and I can easily manage my office with over 20 agents.' - Jason Skole The Benefit Depot
Coral Springs, FL (PRWEB) July 30, 2014
There are lots of CRMs on the market today, and yet with so many CRMs available, it's hard to find one that meets the needs of a small business; and even harder if your small business is specialized. Salesforce is obviously the 800 pound gorilla that dominates the market, and is a great Enterprise level and general purpose solution; and if you have a thousands of dollars and an IT team you can make it do almost anything. But what does a small insurance sales company do? Customizing a general purpose, CRM is too expensive and few small businesses even know where to start. Then there are the monthly fees that often exceed $100 per seat, just for the CRM plus all the add ons, phone system, and mass email system.
TLD CRM (The Lead Depot) was developed specifically for small and mid size insurance sales agencies, giving them all the tools and automation of large and highly automated insurance companies. TLD CRM is a web based turn key system offering a full CRM system with an integrated VOIP (Voice Over IP) phone system, automated dialer integration, real time reports and monitoring, digital recordings of verification calls, email drip campaign/followup, and automated lead importing from top lead vendors via API. Since TLD CRM runs from the PC browsers like Chrome and Firefox any web compatible PC will work and no onsite server is required.
A major benefit of this new CRM is it is browser based and does not require an onsite server or any software other than standard Internet browsers such as Chrome or Firefox.
TLD CRM includes a manual power dialer and is compatible with both the Genesis and Five 9 automated progressive dialers. The system is also compatible with major lead vendors and automatically downloads and posts leads to the dialers. This powerful call center solution delivers optimum outbound call performance with the lowest possible cost per call.
TLD CRM also offers real time reporting including phone activity, real time sales and lead transactions, and agent benchmark comparison. The integrated phone system also offers digital recording of verification phone calls.
The system includes an integrated mail campaign module which normally requires a third party service. The TLD CRM mail module automatically sends emails to both sales prospects and current clients based on status and time triggers which can be customized.
TLD CRM is now being offered to insurance sales and call centers nationwide starting at $50 per user with no minimum number of licenses and no long term contracts.
About TLD CRM
TLD CRM is a joint venture between The Benefit Depot, a health insurance sales company and broker, and Esotech, Inc. CRM and web development company. The two firms compliment each other in that, The Benefit Depot teams bring industry experience and in depth knowledge of user requirements and the Esotech team brings cutting edge programming and user interface design to bring the vision to reality.