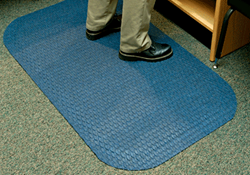 Sitting has become the smoking of our generation...
New York, NY (PRWEB) July 29, 2014
Eagle Mat and Floor Products announces free shipping and a 100% price match guarantee on all anti-fatigue mats for standing desks. Interest in standing desks has never been higher, and Eagle Mat has designed this special promotion exclusively for forward-thinking entrepreneurs and businesses that want to adopt a more productive, creative, and health conscious way of work.
"Sitting has become the smoking of our generation," says Corporate director and growth strategist, Nilofer Merchant, in a business lecture for TED. From Web-based startups to Fortune 500 companies like Apple, Inc., Ms. Merchant has more than 20 years experience in developing frameworks, strategies, and cultural values that translate to enhanced productivity and profitability. She calls sitting the "smoking of our generation" because it poses a serious threat to health and well-being, yet it is so common that no one cares to question it.
Ms. Merchant is not alone in her belief that standing, walking, and moving around spurs creativity and productivity. Facebook CEO Mark Zuckerberg and Apple co-Founder Steve Jobs are just two examples of tech titans who are known to have preferred "walking meetings" with Creatives and other colleagues, according to sources at Wired.com.
A standing desk has limitations, however. Unlike walking meetings, employees often stand still when working at standing desks. Over time, blood flow stagnates and the muscles of the feet, legs, and lower back become fatigued. Productivity falls as fatigue builds, due primarily to loss of focus, energy, and efficiency.
Anti-fatigue mats for standing desks are an affordable and cost-effective solution, according to representatives from Eagle Mat. Without anti-fatigue mats, the health benefits of standing desks are quickly compromised by muscle fatigue and sensations of discomfort. Nicknamed "comfort mats," mats flex underfoot to create a unique sensation that gently stimulates the muscles of the feet, legs, and lower back. This promotes the circulation of blood, oxygen, and other nutrients that are vital in fighting fatigue.
For more than 30 years, Eagle Mat and Floor Products has specialized in the consultation, rental, and sale of commercial flooring and safety matting. For additional information on the new anti-fatigue mats promotion, readers are invited to visit Eaglemat.com or call Eagle Mat Client Services at 1-877-333-1018.