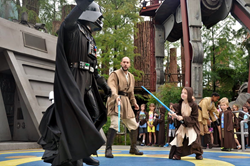 We are forever grateful to Kids Wish Network for giving us a chance to cherish our time together as a family...
Abigndon, VA (PRWEB) July 31, 2014
As 9-year-old Taylor Hayes, in his Obi-Won Kenobi costume, sauntered up to Darth Vader, light saber in hand, there was nothing but excitement in his eyes. The Abingdon, VA, child faced his "Star Wars" nemesis on his recent wish trip to Disney World thanks to Florida-based children's charity Kids Wish Network.
From the moment Taylor was born, he's been struggling against his life-threatening illness. One of Taylor's organs formed partially on the outside of his body and resulted in his first surgery at 3 days old. Taylor was diagnosed with bladder exstrophy, a very rare, complex birth defect resulting in the incorrect formation of the pelvic bone, skin and muscles that join the lower part of the abdomen. Taylor spent 25 days in the NICU before he was released and has since suffered through 21 surgeries in six different hospitals across two states.
Taylor regularly visits seven different doctors and specialist across many states and takes multiple pills daily to battle his incurable condition. Taylor also deals with hypoglycemia, acid reflux, gastritis, migraines, is near-sighted, and has permanent hearing loss in both ears.
Despite his daily battle, Taylor is a friendly and funny child who loves "Star Wars" almost more than anything. When Kids Wish Network got the chance to send Taylor to Disney World during "Star Wars" Weekend, the perfect wish was planned. Taylor and the Hayes family enjoyed an all-expense paid wish trip to sunny Florida where they stayed at the beautiful Clarion Lake Buena Vista, were treated like celebrities at local restaurants, and explored all the magical theme parks.
"For Taylor, finding Darth Vader was definitely the best part," recalls Taylor's mom, Brittany Hayes. "We are forever grateful to Kids Wish Network for giving us a chance to cherish our time together as a family instead of focusing on Taylor's daily, life-long challenges. Words could never express our gratitude."
Taylor, his family, and Kids Wish Network would like to thank the following sponsors for helping make Taylor's dream come true: Dollar Rent A Car, Compassion Partners Programs, Clarion Lake Buena Vista, Splitsville Luxury Lanes, Pirates Dinner Adventure Show, and Chili's Bar & Grill.
Kids Wish Network is a Florida-based charitable organization dedicated to infusing hope, creating happy memories, and improving the quality of life for children having experience life-altering situations. Come experience the Kids Wish Network difference at http://www.kidswishnetwork.org.
###