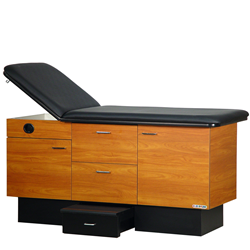 Wright City, MO (PRWEB) July 31, 2014
Goodtime Medical announces the addition of the Classic Family Exam Table 400. The Classic medical exam table 400 is our largest professional medical examination table with a large 30" x 72" treatment table pad. An ergonomic side step positions the patient at the optimal place on the exam table thus eliminating extra movement. The pneumatic backrest adjusts from 0 to 45 degrees. Order your Classic 400 treatment table in any of over 240 colors. The Classic exam table 400 will compliment your medical furniture with a seamless pad available in over 88 colors. This treatment table will maximize your exam room storage capacity with its large storage area with adjustable shelves. Weight capacity is 600 lbs.
Research reveals that specific design changes in healthcare environments can reduce stress and alleviate the consequences of that stress. An aesthetically pleasing environment will help alleviate stress on the patient in the doctor's office making them feel more comfortable and more relaxed. This can also help prevent medical errors while improving staff morale and efficiency.
Goodtime Medical is located in Wright City Missouri, just outside St. Louis Missouri and has been in business since 1996. For more information about the tables and Goodtime Medical, please visit the website at http://www.examtables.com or call at 888-386-8225.