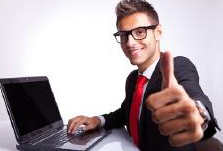 Miami, FL (PRWEB) July 30, 2014
LiveRes (http://www.live-resume.com) is a 100% free website that is changing the way job seekers connect with employers.
In the world of instant access, searching for employment on the internet has vastly changed over the years. LiveRes is at the forefront of transforming the way employers and applicants connect with each other by introducing instant messages and soon to be, video chat to the already accessible message center. This allows the employer to interact with qualified applicants directly, whether they are currently online or not.
New features to be added in the upcoming weeks.

Push Notices & Text Messages – Received directly to smart phones and mobile
devices.

Daily Activity Report - Registered users will be notified of previous day's activity on
their account
Through innovation and technology, LiveRes has reshaped the standard job application procedures, having made it possible to create video resumes and conduct interviews all from using one site. The process has been simplified and developed in a way that allows the individuals to market themselves to companies who seek them out, amplifying the potential for employers and job seekers to find the right candidate and the right job.
Whether you're an individual or a business, let LiveRes help opportunities find you. It's fast, it's easy & it's free.
To find out how LiveRes can help connect you and your future, visit: http://www.live-resume.com.