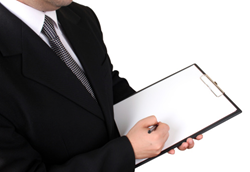 Thanks to the hard work and dedication of some of our members, we are well on our way to developing a new examination for the MRFC designation. - Jim Lifter, Accreditation Coordinator
Middletown, OH (PRWEB) July 29, 2014
The exam subject matter was determined through a survey of financial professionals. The results of this in-depth questionnaire determined a percentage blueprint of subject matter domains and their weight of exam questions. The final tally ended with 13 topics: Client Engagement Process, Retirement Planning, Insurance Planning, Education Planning, Estate Planning, Professional Conduct, Plan Development, Data Gathering, Ongoing Monitoring, Tax Planning, Investment Planning, Regulations and Compliance, and Practice Management.
From this group of topics, the SMEs met at the IARFC headquarters in Middletown, Ohio with the intention of writing 300 items. They were instructed first on the subtleties of contructing understandable and concise exam questions and then spent the balance of their time writing the items in their respective area of expertise. "Under the guidance of our professional psychometrician Deborah Schnipke, we made a strong start to the item writing process for the new MRFC examination," explained Accreditation Coordinator Jim Lifter. "Our subject matter experts have done well and will help us create a strong and valid examination."
The items will then be reviewed numerous times and compiled into a bank of questions from which financial services professionals will take their exam. The exam will be 3 hours in length and total 150 questions. By passing this exam and meeting the rest of the MRFC criteria, the consumer can be assured that their Financial Advisor has met a professional standard, certified by a National Accreditation Body. "This new designation will be a step-up of credibility for the IARFC and their professional members," says IARFC Chairman Ed Morrow. "It holds our membership to a gold standard when dealing with the public."
Due to the hard work of the SMEs, the IARFC can put the finishing touches on the exam component and make it available to financial professionals. This is the final stage before submitting the program for accreditation acceptance. "It was a pleasure to work with such knowledgeable people as we developed items that will appear on our new MRFC examination," states Lifter. "I am confident that we will achieve accreditation with this effort."
To keep informed on the MRFC Path to Accreditation, please contact the IARFC at info(at)iarfc(dot)org.