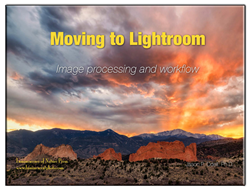 If you're migrating your workflow to Lightroom, this guide will help you avoid common mistakes before you import thousands of images.
Colorado Springs, CO (PRWEB) July 30, 2014
Photographers migrating to Adobe's Photoshop Lightroom from other software are faced two major challenges: Learning a new editing and workflow tool, and what to do with the hundreds, or even thousands, of raw images that the've processed in other applications. Photographer Jason P. Odell made that migration in 2012 and learned first-hand how to overcome the obstacles to moving to Lightroom. His new book, Moving to Lightroom: Image processing and workflow, delivers clear instructions and examples to help photographers of all levels understand and utilize Adobe Photoshop Lightroom.
Moving to Lightroom is a complete look at the steps photographers should take both before and after they start using the Lightroom application. Moving to Lightroom starts out by clearly explaining how Lightroom differs from traditional browser-based workflows and establishes how photographers can leverage the Lightroom workflow paradigm. Next, readers will learn best best-practices for managing their existing photo collection, including what to do if they've processed raw images in other editors, such as Nikon's Capture NX 2.
Moving to Lightroom also includes detailed chapters on image management and metadata handling, such as how to add keywords to images and how to make virtual arrangements inside of Lightroom's Library module. Readers will learn how to take advantage of Lightroom's central database file to arrange and filter their images in ways that weren't possible with traditional image browsers.
Image processing and adjustments are a huge component of photography workflow. Moving to Lightroom provides an in-depth look at the editing tools in the Lightroom Develop module. Readers will learn not only what each tool does, but also when and how to apply those tools as part of a streamlined editing approach. Moving to Lightroom includes detailed information on exposure, contrast, and color adjustments, sharpening settings, and how to apply effects with brushes and gradients. Readers will also learn how to use Lightroom to send their images into popular external editors, such as Adobe Photoshop and the Nik Collection plug-ins by Google.
Moving to Lightroom also includes a set of step by-step examples, which take readers through the process of adjusting several different image styles. They will learn to create fundamental settings for landscapes, portraits, and wildlife images. Readers will also be able to install a full set of custom Lightroom presets created by the author and described in the text.
Moving to Lightroom is available as an interactive Adobe PDF document that includes bookmarks, hyperlinks, and active cross-references. Users are entitled to print a copy of the book for personal use, and the PDF file is compatible with most tablets, including Apple iPad.
eBook Specifications:
Adobe PDF 7.0 or later compatible file
203 pages; 8.26x11"
Printable on either A4 or US Letter paper
About Jason P. Odell Photography
Jason P. Odell is a Colorado-based professional photographer. He is the author of eleven comprehensive photography guides, including his best-selling guides to Nikon's Capture NX 2 and Nik Collection plug-ins. Jason is known for having a clear vision for communicating the technical and artistic sides of modern digital photography. His guides are used by thousands of photographers around the world to improve their artistic vision.
Jason Odell's photography has been featured by Nik Software, Tiffen, Studio Photography Magazine, Singh-Ray Filters, and Digital Silver Imaging.