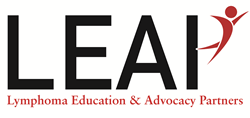 New York, NY (PRWEB) July 29, 2014
The Lymphoma Research Foundation (LRF) is pleased to announce the launch of the Lymphoma Education and Advocacy Partners (LEAP) Program. LEAP is a coalition of lymphoma-specific patient advocacy organizations that will focus on public policies and programs that influence the healthcare and treatment options of people with lymphoma.
"Public policy has the potential to impact the diagnosis, treatment and long term survivorship of lymphoma patients as much as scientific innovation," said LRF Chief Executive Officer Elizabeth Thompson. "Through the LEAP Program, every lymphoma organization in this country has the opportunity to contribute to these policies and together, with our collective voice, I know we will make a difference."
More than half a million people in the United States are living with, or in remission from, lymphoma, the most common form of blood cancer. Despite this fact, most Americans do not know about the disease until they are diagnosed. This is perhaps best illustrated in the nation's public policy agenda, where the needs of the lymphoma community, despite the disease's prevalence, are not adequately represented.
"This lymphoma-specific policy initiative will draw upon the expertise and reach of its member organizations and key stakeholders," explained LRF Chief Program, Policy and Communications Officer Meghan Gutierrez. "LEAP will facilitate communication with policy makers and ultimately bring greater attention to the policies and regulations that have the greatest impact on people with the disease."
LEAP member organizations include the Cutaneous Lymphoma Foundation (CLF), the International Waldenstrom's Macroglobulinemia Foundation (IWMF), the T-cell Leukemia Lymphoma Foundation (TCLLF) and The Double Hit Lymphoma Foundation (TDHLF).
In the coming months LEAP will execute education and advocacy activities for member organizations, including opportunities for members to engage with federal lawmakers. For more information about LEAP, its member organization and activities, visit lymphoma.org/LEAP.
About the Lymphoma Research Foundation
The Lymphoma Research Foundation (LRF) is the nation's largest non-profit organization devoted to funding innovative research and serving the lymphoma community through a comprehensive series of education programs, outreach initiatives and patient services. To date, LRF has awarded more than $55 million in lymphoma-specific research. For additional information on LRF research, education and services, visit lymphoma.org.