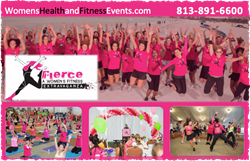 Our Fierce fitness event is a chance for women to spend time focused on recharging, renewing themselves through fitness, time with old friends, making new friends on Clearwater's beautiful beaches.
Tampa, FL (PRWEB) July 30, 2014
Getaway Fitness, a leading provider of luxury boot camp vacations, announces that it will host this year's FIERCE - The Ultimate Women's Fitness & Wellness Event at the Hilton Hotel, Clearwater Beach, Florida on Saturday, October 4, 2014. This event marks the third year that Getaway Fitness has hosted this amazing women's fitness extravaganza filled with fierce fitness, friends and fun at the beach.
The FIERCE fitness event is comprised of a full day of intense fitness consisting of every type of workout from beach bootcamps, Pilates, yoga, Zumba, to women's self defense and more. Event participants also receive a healthy gourmet lunch as part of the registration fee along with access to health and fitness exhibits, a swag bag, event T-shirt, and entry into the various raffle prize drawings. The Hilton Hotel on Clearwater Beach is the location of the 2014 event. The resort has provided attractive room rates for the event. This makes it simple for participants to turn the day event into a fun, girl getaway weekend.
Getaway Fitness also publishes a women's health magazine for the event, HER Health (http://www.herhealthmag.com). The magazine is filled with workouts, information on nutrition, women's health, fitness products and weight loss tips. Select participating exhibitors and sponsors at the event receive advertising space in the magazine as part of their exhibit package. Additionally, each year HER Health Magazine recognizes outstanding women from the Tampa Bay area. In 2013 Julie Weintraub was spotlighted in the Celebrating HER feature. Julie is the founder of Hands Across the Bay, an organization that provides aid to women who are victims of domestic violence. Julie's philanthropic efforts have helped victims and created awareness of the growing problem of domestic violence. Karen Mertes was the focus of the Inspired by HER feature for her courageous recovery from a traumatic brain injury and her resultant efforts after the recovery to help others affected by traumatic brain injuries.
A portion of the proceeds from this year's event will be donated to Moffitt Cancer Center's Lifetime Cancer Screening Fund which provides screening mammograms. Each year contributions are made to a deserving program to support early detection of cancer.
Event founder Maria Walker shares "Since women often forgo a focus on their own health due to the fact that they are busy taking care of others, the goal of our event is to help women to regain balance in their life by taking charge of their own health, which in the end, will help them in their caring for others. Being fit and healthy provides energy, relieves stress and is psychologically uplifting. The FIERCE - ULTIMATE Women's Fitness & Wellness Event is a chance for participants to spend a day or even a whole weekend enjoying Clearwater's beautiful beaches, making new friends, renewing themselves, refocusing on balance in their lives and working to feel energized, fit and healthy."
"It is important to us that every event is a unique and memorable experience for our guests. Our host resort, speakers, instructors, and exhibitors make each year an exceptional experience for our participants and that experience keeps them looking forward to the next year and our next event " states Miss Walker.
About Getaway Fitness, Inc.
Getaway Fitness is a leading provider of luxury fitness vacations. Previously featured on The Doctor's TV Show, Getaway Fitness provides guests with a get fit, lose weight, boot camp vacation getaway. Packages range from $895 to $3,695 depending on length of stay and location. http://www.getawayfitness.com
FOR MORE INFORMATION
Getaway Fitness, Inc.
12157 W. Linebaugh Avenue, #321
Tampa, FL 33626
813.891.6600