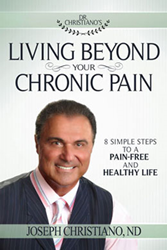 A message of hope for you to experience a pain-free life.
Shippensburg, PA (PRWEB) September 22, 2014
Pain does not need to rule your life anymore! "Living beyond Your Chronic Pain" is a user- and reader-friendly book designed to guide the individual who suffers with chronic pain the way back to pain-free living. This inspirational book is written to help the reader who is struggling with chronic pain and desires to know a way to regain a pain-free life — a daily "go-to" guide on breaking free from the prison of chronic pain.
Chronic pain has become an epidemic, with over 100 million Americans suffering from this debilitating condition on a day-to-day basis. Dr. Joseph Christiano shares out of his personal struggle with chronic pain, turning his years of suffering into a message of hope for you to experience a pain-free life.
The author offers solutions and answers to many common questions associated with chronic pain, as well as information regarding the dangerous side effects of managing your pain with medications. He shows the reader how to walk through emotional struggles that come with chronic pain, such as fear and doubt, and provides remedies and tips from contributing doctors, whose expertise ranges from natural healing practices to pain management therapy to neurosurgical procedures. This combination of expertise brings a better understanding to the reader of ways to identifying certain types of pain, symptoms, remedies and procedures to combat chronic pain philosophically—providing recommendations for dealing with chronic pain based on years of professional experience.
Interviews, review copies and giveaway copies are available upon request.
Joseph Christiano, ND, CNC, a naturopathic doctor and certified nutritional counselor, has spent forty years developing individualized diet and exercise programs for Hollywood celebrities. Trainer of Miss America, Miss USA and Mrs. America pageant winners, Joseph is a former Mr. Florida and award-winner in the Mr. America bodybuilding championships. Often seen on television promoting health and wellness to millions, Christiano has authored several books including Bloodtypes, Bodytypes, and You, Never Go Back, and My Body, God's Temple. As founder of Dump the Junk America, Dr. Joe has developed a nationwide campaign for helping kids with obesity and related illnesses and poor academics.
Destiny Image, located in Shippensburg, Pa, was founded in 1983 by Pastor Don Nori, Sr. It seeks to accurately represent authors who have a call to share God's present word to His people and to make these authors easily accessible to the Christian body around the world in every form of media possible.
FOR PRESS INQUIRIES, INTERVIEWS AND REVIEW COPIES:
Brad Herman
(719) 439-4960
bherman(at)norimediagroup(dot)com