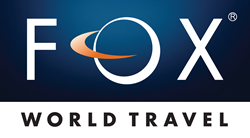 Oshkosh, WI (PRWEB) July 30, 2014
In Travel Weekly's prestigious Power List, released on June 23rd, 2014, Fox World Travel delighted in significant advancements over last year's standings, moving eight spots from number 45 to number 37.
Travel Weekly's annual Power List, based on total agency sales, celebrates substantial improvements of outstanding companies in the travel industry with its annual ranking system. Travel Weekly was established in 1958 and is written for U.S. travel agents, tour operators, corporate travel executives and travel industry suppliers.
This year's Power List celebrates Fox World Travel's noteworthy developments in 2013 including business travel growth, sales team expansion, upward movement in the annual Business Travel News Travel Management Company survey, Fox Premier Meetings and Incentives growth generated by increasing recognition of our value from corporate clients and industry acknowledgement. David Juedes, President of Fox World Travel, stated, "We have focused on staff development throughout the company in each of our specialized fields and we are honored to be recognized for our stability and growth in 2013."
About Fox World Travel, Inc.:
Fox World Travel was founded in 1960 and is ranked as top travel agency in the United States, according to the Business Travel Survey in Business Travel News. Fox World Travel owns and operates 11 retail travel locations throughout Wisconsin as well as a full service corporate travel division and Premier Meetings and Incentives in Oshkosh and Fox World Travel School. Fox World Travel is the largest vacation travel agency in Wisconsin. Fox World Travel's corporate travel division is a leading provider of travel management solutions, serving travelers as they navigate the globe while guiding organizations toward successful policies, compliance and financial advantages in their domestic and global travel programs. Visit Fox World Travel online at http://www.GoFox.com.