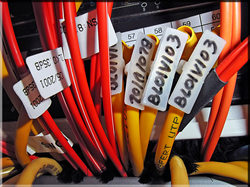 Tedlar labels are the preferred substrate for wire marking in the Aerospace industry, but supplies are limited and an alternate material will be required in the future.
(PRWEB) July 31, 2014
Identification of wire and cable bundles inside an aircraft require robust materials that will not unwrap or fall off when subjected to harsh fluid and chemical attack found in the Aerospace manufacturing industry. In addition, engineers desire materials that are flame retardant and will not propagate a flame during a fire event. The wire markers used in the aerospace industry need to be able to permanently adhere adhesive to adhesive and act as a flag marker plus adhere uniformly around the small diameters of wires or cables for identification and tracking.
Polyonics new flame retardant wire markers are designed to withstand the harsh environments found in the aerospace, electrical and commuter railway industries. They include an ultra-aggressive acrylic pressure sensitive adhesive (PSA) laminated to high temperature and dimensionally stable polyimide film. The thick adhesive provides the highest bond strength on the market assuring that the marker will not come apart or unwrap in the harshest of conditions.
The Polyonics wire marker construction has been evaluated to meet the Boeing FAR 25.853 & 25.855 flammability specification along with the Boeing Safety Standards for smoke (BSS7238) & toxicity (BSS7239). In addition, the XF-641 (white) & XF-647 (yellow) products have passed the stringent Boeing 1347J specification for fluid resistance which include exposure to harsh fluids such as low density aviation hydraulic fluid, jet fuel and lubricating oil.
Applications include:

Wire marking
Cable identification
Avionics
Battery Labels
Electronic devices
Wire bundles
To receive technical information and samples of this new innovative product, please contact a technical expert at +1 (603)352-1415 or email at info(at)polyonics(dot)com.