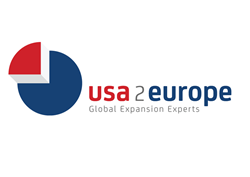 We're known for having long client relationships and the same can be said for our core management team.
(PRWEB) July 30, 2014
U.K.-based USA2Europe, Global Expansion Experts providing full-service international accounting, back-office and compliance including guiding start-ups through key launch phases, announced today the achievement of key milestones—growth, local presence, enduring track record—as the company celebrates this month its 10th anniversary. Founder and CEO, Andy Hooper, reflects on the company's exceptional growth and success over the last decade and provides a glimpse at the company's future plans.
"As an organization that makes its living by supporting the global expansion plans of VC-backed start-up companies in technology and life sciences we truly understand the 'growing pains' that businesses can encounter, as we've been there ourselves! That's why we're different," said Andy Hooper, founder and CEO, USA2Europe.
Having built a very solid client base and network of strong service providers over the last 10 years, USA2Europe is in an excellent position to grow and move to the next level. Hooper is careful to note that his reflections are always tempered by a reality that his team of tech industry veterans knows all too well in guiding start-ups through key phases. But, from a standing start in 2004, he says they should be proud to look back on the following key highlights:

USA2Europe now serves 75 clients in 42 countries
The company has a truly global reach (Europe was the entry point in 2004, but Asia and South America followed soon after)
The firm has a local presence, partnering with 50+ service providers across the globe
Its (Greater) Boston network continues to grow and remains central to the business
USA2Europe's client base is loyal and values its efforts—the company has never lost a client, only those that have been acquired by larger corporations
Its team understands the needs of clients, are grateful for their custom, and appreciate it is they that have been intrinsic to the firm's success over the last 10 years
To celebrate its anniversary, company staff gathered in London for a weekend of activities and attractions. Events included a Thames riverboat tour, a trip on the London Eye, and attending a London show. The team was joined by Chelo Taylor from Limelight Networks Inc. currently USA2Europe's longest-served client of seven years. The company typically maintains client relationships for six years or more, which is significantly higher than the industry average.
"I am very positive that the future will bring continued growth and success," said Hooper, who saw a market opportunity 10 years ago and is now embarking on the second phase of his vision. "We look forward to sharing more about our big plans in the months and years to come. I'd also like to thank our team members for their hard-work and dedication. We're known for having long client relationships and the same can be said for our core management team."
About USA2Europe
Founded in 2004, USA2Europe, Global Expansion Experts, specialize in back-office outsourcing support including Enterprise Payroll, Finance, HR, Legal and Compliance. The firm also has extensive expertise in seeing businesses, particularly technology start-ups, through Company Formations, IPOs and M&A activities. USA2Europe is headquartered in the U.K. and has offices and on-the-ground support in countries including Belgium, Ireland, Germany, Singapore and the United States. Through industry partnerships in other key markets, the firm has expanded its reach to support 200+ business entities in over 40 countries.