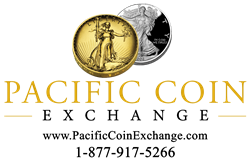 We are so honored, grateful, and excited to one of southern California's top gold and silver coin and bullion dealers. This ribbon cutting ceremony represents more than just the grand re-opening of PCE, it represents a new beginning for an old business.
Carlsbad, California (PRWEB) July 31, 2014
Pacific Coin Exchange's President, Brian Whitfield, has announced the company's Grand Re-Opening. The company's new location is at 300 Carlsbad Village Drive Suite 212, Carlsbad, CA 92008. The ribbon cutting will be held on August 6, 2014 at 2 p.m. at Pacific Coin Exchange. The new Pacific Coin Exchange location showcases an improved facility designed to allow anyone a confident, easy, yet secure access to buy and/or sell physical gold and silver coins and bullion, palladium and platinum coins and bullion, as well as collectibles and rare coins.
Pacific Coin Exchange is a highly reputable coin dealer in San Diego located in downtown Carlsbad, California. Pacific Coin Exchange buys and sells gold, silver, platinum, and palladium at bargain prices. In addition, the company also sells silver and gold coins, as well as bullion to help people get more money for their metal and more metal for their money.
According to Brian Whitfield, who is a USMC veteran and associate professor, states that the re-grand opening is focused on introducing to their customers a brand new suite, new business model, new look, new leadership, and new way of selling and buying precious metals. "The company has already gone through a lot of changes through the last year, but the only thing that does not change is the company's passion to helping, as well as educating people in finding the confidence to make their financial future promising and secure through buying and selling physical gold and silver. The mere fact that people can get more money for their metal and more metal for their money at the Pacific Coin Exchange holds true no matter where you are, at our store or buying online. Our honesty, integrity, and commitment to our customers will never change," Brian Whitfield said.
Since Pacific Coin Exchange has been established in 1986, the company has been the forefront of gold and silver coins markets. Along the way, the company has taught countless customers and buyers how they can protect their financial future through purchasing physical gold and silver.
For further information, please visit http://www.pacificcoinexchange.com/meet-the-president/. Interested people can call Tel. No.: 1-760-452-5777
Contact: Brian Whitfield
Company: Pacific Coin Exchange
Website: http://www.pacificcoinexchange.com
Address: 300 Carlsbad Village Drive Suite 212 Carlsbad, CA 92008
Tel. No.: Tel. No.: 1-760-452-5777
Email: info(at)pacificcoinexchange(dot)com