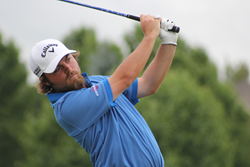 Bernie Friedrich, Boyne Resorts' senior vice president of golf and retail, said Garber is an exceptional athlete and person. 'We couldn't be prouder to have him representing our brand,' he said.
Harbor Springs, MI (PRWEB) July 30, 2014
BOYNE Golf has reached a sponsorship agreement with Petoskey native Joey Garber, who has made a stunning debut this summer as a professional golfer.
"It makes me feel like I'm staying close to home in some aspect," said Garber, 23 and a recent graduate of the University of Georgia where for part of the last year he was the nation's top-ranked collegiate player.
"Boyne has great golf facilities, obviously a wealth of golf courses, and tremendous instruction. I remember getting dropped off by my mom and great golfers and teachers were all around. My relationship started with Boyne at a very young age and has grown and contributed to where I'm at now. I'm very thankful they believe in me and want to create a partnership."
Bernie Friedrich, Boyne Resorts' senior vice president of golf and retail, said Garber is an exceptional athlete and person.
"We couldn't be prouder to have him representing our brand," he said.
Brian O'Neill, director of golf instruction at BOYNE Golf Academy, said he remembers the first day he met and started working with Garber.
"He was only five-years-old and at the time, my junior golf class started at age seven," he said. "When his mom showed up to drop off his two older brothers (Peter and Tad), his mom said that she couldn't say no to him. As I looked down at this blond haired five-year-old holding his putter staring me in the eyes, I said 'well neither can I.'"
Garber, the first golfer to win both the Michigan Junior Amateur and Michigan Amateur Championships in the same year (2010), has jumped into his professional career with gusto. He made his professional debut last month in the Michigan Open Championship at Prestwick Village Golf Club in Highland Township and finished second to Ryan Brehm.
Since then, he has won his first mini-tour professional title in the Hopkins Tour's Trophy Club Classic in Alpharetta, Ga., played in his first PGA Tour event (Travelers Championship in Cromwell, Conn.) via sponsor's exemption and also qualified for a Web.com event in Boise, Idaho, and finished tied for 10th.
"It's very exciting and rewarding for me to see Joey reach the levels of success that he has in his golf career," O'Neill said. "I am so proud of him and all the work he has put in over the years. He has handled both his success and disappointments like a true champion and has continued to learn from them at every level. I am certainly not surprised to see him competing at this high level, as he has incredible control of his golf ball through all the hard work we have put in, and he has amazing determination and persistence both of which are necessary for success."
Garber, who transferred to Georgia from the University of Michigan before his sophomore year and was the team captain for the Bulldogs his senior year, said support from BOYNE Golf, the Petoskey and Harbor Springs areas and all of Northern Michigan is appreciated.
"I love it up there," he said. "I wouldn't have wanted to grow up anyplace else."
He said sponsor support like he is now receiving from BOYNE Golf puts him in the best possible position to forge a successful professional career.
"I have some great financial backing so when I get to the golf course I can just go ahead and play and not have to worry about making cuts," he said. "Right now I can focus on getting my Web.com Tour card and have no other worries outside that. I have to thank my sponsors Callaway, Garber Automotive, and BOYNE Golf for putting me in a position where it's really all about golf now."
O'Neill still works with Garber on the occasions he is home in Petoskey, and they pick up where they left off seamlessly.
"We put all the difficult work in several years ago so now when we work together it is simple things that were the basis of our foundation from when he was ages 14-18," O'Neill said. "He's playing great. To imagine that for his last 12 competitive rounds of golf as a professional he is something like 48-under par. Can Joey make it to the big leagues? My answer has always been YES!"
BOYNE Golf provides the ultimate world-class golf destination with 11 championship caliber courses spanning 3 resorts. Centered in Michigan's northern Lower Peninsula, BOYNE's 171 holes of golf are the products of some of the game's masters including Robert Trent Jones Sr., Arthur Hills, and Donald Ross. From all-inclusive vacation packages, elite instruction with the BOYNE Golf Academy, tournaments, events and more, BOYNE Golf offers an unrivaled Michigan golf experience. For more information, visit http://www.BOYNEGolf.com or call 800.462.6963.