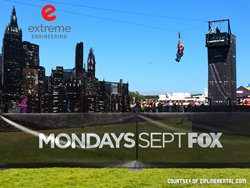 The zipline transformed Comic Con fans into Batman soaring over Gotham City.
Sacramento, California (PRWEB) July 30, 2014
It's a bird, it's a plane, nope it's Extreme Engineering's mobile zipline at this year's Comic Con in San Diego, California. Comic book and super hero fans across the globe enjoyed ziplining across Gotham City™, taking the leap of faith off of a sky scraper. Extreme Engineering's Fly Wire™ Zipline, winner of best Major Theme Park Ride at IAAPA (International Association of Amusement Parks and Attractions), was themed to be part of Batman's® hometown, Gotham City™, allowing the Mayor of San Diego and the complete cast of the FOX television show, Gotham™, soar across a spectacular diorama.
Comic-Con hosted over 130,000 attendees. From Batman®, Halo's® Master Chief, to the Joker®, super hero goers transformed into their favorite comic book or fantasy character. One of the highlights of this year's Comic Con was the Gotham City themed zipline. Zipliners would exit the mobile zipline's tower themed as a tall sky-scraper and soar over the city of Gotham. In celebration of FOX's new television show, Gotham, the complete cast experienced the mobile zipline, Extreme Engineering's Fly Wire™, ziplining at speeds of 21 MPH.
Carter Schmeck, president of Ziplinerental.com and the owner of Extreme Enginering's mobile zipline, operated at this year's Comic Con. "We had a fantastic response and were told multiple times that our zipline was the main attraction at Comic Con. The cast of Gotham™ thoroughly enjoyed the zipline experience as well as thousands of participants throughout the week," states Schmeck. Ziplinerental.com was hired by Van Wagner Experiential, a premier marketing and promotions company, for the Comic Con zipline event. Even the Mayor of San Diego paid tribute to the thrilling zipline experience. "This is one of the most exciting weeks of the year in San Diego. The zipline was great! I haven't ridden one in years, especially in a suit," states the Mayor of San Diego.
Philip Wilson, Executive Vice President of Marketing with Extreme Engineering, states, "Themeing is such an important aspect with our products. The zipline can be transformed into almost anything. I've seen it as a pirate shipwreck, wooden tower, sky scraper and even a demolished building in London. To get premier events you need a premier product that tells a story. The Fly Wire™ zipline tells that story."
As the world's largest supplier in patented mobile ziplines, portable ziplines, climbing walls, Extreme Air Jumpers and adventure products for the amusement and resort industries, Extreme Engineering manufactures award winning products such as the Fly Wire™ Zipline for entertainment enthusiasts on an international level. Extreme Engineering's thrilling Fly Wire™ mobile zipline recently won one of the most prestigious industry awards in the "Best New Product" category for "Best Major Theme Park Ride," earning their 8th total industry award.
The award winning Fly Wire™ mobile zipline provides thrill seekers the ultimate rush of zip-lining across the sky up to 300 feet - the length of a football field. With speeds reaching up to 21 MPH, the Fly Wire™ is the only mobile zipline of its kind using the safest decelerator on the market, the Decelinator™, which is a proprietary device that fully lowers zip-liners safely to the ground so riders can soar through the air with confidence.
The Fly Wire™ mobile zipline and stationary zipline can also currently be experienced at Westgate Resorts throughout the United States, Exploria's Summer Bay in Orlando, Florida and Raw Hide Western Town in Phoenix, Arizona. You can also rent the Fly Wire™ zipline from Carter Schmeck with Ziplinerental.com.
About Extreme Engineering
With over 19 years in experience and 5,000 customers worldwide, Extreme Engineering has provided extreme thrills to customers such as Disney, Six Flags, NASA, US Military, Westgate, Marriott and many more. As the original creators of the mobile climbing walls and Auto-belay™ systems, Extreme Engineering has been globally recognized as the primary supplier in zip lines, mobile and stationary climbing walls and extreme, interactive fun. Extreme Engineering is the first company in amusement history to achieve the amazing honor of "Best New Product" 5 years in a row and 8 consecutive industry awards. For more information on Extreme Engineering, please visit http://www.extremeengineering.com, or email Philip Wilson at phil@extremeengineering.com.
About Comic Con
Over the years, Comic-Con has become the focal point for the world of comics conventions. The event continues to offer the complete convention experience: a giant Exhibit Hall (topping over 460,000 square feet in its current incarnation); a massive programming schedule (over 600 separate events in 2012). For more information please visit http://www.comic-con.org.
About Ziplinerental.com
ZiplineRental.com brings ZIPLINING out of the woods and directly to you. We have combined our professional interactive team with the most exciting and innovative technology in entertainment equipment today. Whether you're 5 years old or 85 years young this is one of the most fun and exciting activities you will ever do! For more information please visit http://www.ziplinerental.com.