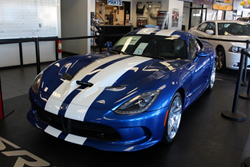 Vincent Odoardi, General Manager of Rockland Chrysler Dodge Jeep Ram stated, "this was a good opportunity to raise awareness for a great cause."
Nanuet, NY (PRWEB) July 30, 2014
On Sunday, September 28th Foundation Fighting Blindness will choose the new owner of a 2014 Limited Edition SRT Dodge Viper in the name of retina research.
The Foundation Fighting Blindness (FFB) has been raising awareness since 1971. The foundation has over 50 volunteer groups across the United States and has been praised for accomplishing advances in retinal research. It provides information and outreach programs as well as has pushed development of scientific advancement to benefit people suffering from many diseases that cause blindness.
The car has been donated by Rockland Chrysler Dodge Jeep Ram. The vehicle has an original MSRP of $140,490.00. It is a limited edition, being #128 of 150 models made. The winner will be chosen at random at the Westchester-Fairfield VisionWalk at Purchase College. Tickets are $200 each. Winner does not have to be present to win. The drawing will take place Sunday, September 28th at 10 a.m. at Purchase College in Purchase, NY. For those not interested in buying a ticket, who still want to contribute to the cause, donations of any amount are accepted.
Vincent Odoardi, General Manager of Rockland Chrysler Dodge Jeep Ram stated "This was a good opportunity to raise awareness for a great cause."
To purchase your raffle ticket please visit https://www.eventbrite.com/e/fight-blindness-with-an-srt-viper-gts-raffle-tickets-11861362655 and to learn more about the Foundation Fighting Blindness please visit their website: http://www.blindness.org/.
About Foundation Fighting Blindness
The Foundation Fighting Blindness is a national non-profit organization driving the research that will lead to preventions, treatments and cures for retinitis pigmentosa, macular degeneration, Usher syndrome and the entire spectrum of retinal degenerative diseases that affect more than 10 million Americans. Since 1971, the Foundation has raised nearly $550 million as the leading non-governmental funder of inherited retinal research. Breakthrough Foundation-funded studies using gene therapy have restored significant vision in children and young adults who were previously blind, paving the way for additional clinical trials to treat a variety of retinal degenerative diseases. With a coveted four-star rating from Charity Navigator, the Foundation also has nearly 50 chapters that provide support, information and resources to affected individuals and their families in communities across the country.