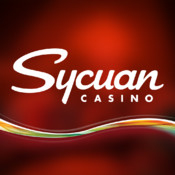 San Diego, CA (PRWEB) July 31, 2014
Sycuan Casino, San Diego's premier gaming establishment, has launched a next-generation mobile application to improve guests' experiences through immediate access to information specific to each loyalty club member as well as helpful general information about the establishment's offerings and layout.
Sycuan Chairman Daniel Tucker said the casino is always working on ways to improve guest experience and its new application does exactly that.
"In this mobile age of always-on communications, we knew we had to provide our Club Sycuan Members a more engaging experience," Tucker says. "Now when our guests download the app and link their Club Sycuan Account they are going to have even more ways to earn valuable Sycuan Rewards."
The Sycuan Casino mobile app syncs with a guest's casino loyalty card information to provide immediate access to:

Accrued point balances
Cash reward balances
Promotional rewards updates
Overall casino information: maps, upcoming concerts, new games, and event promotions
Additionally, as appropriate for today's constantly connected society, the Sycuan Casino application links with the casino's management platform to provide real time status of players' reward balances, visually highlighting how close they are to the next level of rewards.
The Sycuan Casino mobile app user experience was developed and built natively for iOS and Android by MJD, Southern California's award-winning digital innovation agency.
Jason Van Peeren, Vice President of MJD, said Sycuan's mobile app project was an intriguing challenge for the agency.
"We very carefully crafted a user experience and app design that focused on the player, making it easy for them to access the information they need while having fun," Van Peeren says. "Developing both iOS and Android versions while working with a robust API provided us with an opportunity to work with an array of technologies in one project."
The Sycuan Casino app brings the most important information about players' experiences immediately to their hand-held device while providing engaging reasons for players to use the app on a regular basis, Van Peeren adds.
The casino and agency hint that continuing updates to the applications will add new features, including exclusive new kinds of rewards programs, as well as additional fun engagement features for people who download and link their Club Sycuan Account.
You can download the app for iOS and Android.
About The Sycuan Band of the Kumeyaay Nation
Members of the Sycuan Band of the Kumeyaay Nation have resided in and around the foothills of the Dehesa Valley for nearly 12,000 years. Today they are a modern government providing public services to their members, employees and neighbors. The Sycuan Tribal Government operates one of the region's premier Indian gaming and resort facilities, the Sycuan Resort and Casino. The Sycuan Tribe demonstrates its strong commitment to the San Diego region by providing fire protection and emergency medical services to the community surrounding the Sycuan Reservation, and through its support of civic and charitable organizations. The Tribe, through the Sycuan Tribal Development Corporation (STDC), has included purchasing and operating the former Singing Hills Country Club and the historic U.S. GRANT Hotel, participating in development of Hotel Solamar near Petco Park, and owning and developing the Marina Gateway Hotel and Conference Center in National City.
For more information about Sycuan, visit http://www.sycuan.com.
About MJD
MJD is building the digital world around us. The agency crafts award winning digital experiences across web, mobile and experiential platforms that engage, inform and drive results. MJD's unique combination of digital strategy, user experience, creative and technology innovation has enabled them to partner with some of the world's best known brands and cutting edge start-ups in verticals that include: Entertainment, Lifestyle, Medical Device, Retail, Gaming, Action Sports, Hospitality, and Technology. MJD has created pioneering digital work for Oakley, Disney, Red Bull, Legendary Pictures, Vail Resorts, SDG&E, Titleist, NBC Universal, St. Mary's College, ProFlowers, Red Envelope, DJO Global, Riot Games, Sycuan Casino, Falken Tires, Qualcomm and many others.