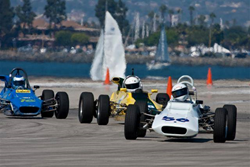 The event features fast-paced, thrilling auto racing and exhibitions for car enthusiasts of all ages at one of the most distinctive race track locations — Naval Air Station North Island, the birthplace of Naval Aviation.
San Diego, CA (PRWEB) July 30, 2014
SAN DIEGO, CA – Media credentials are now available for the 17th Annual Fleet Week Coronado Speed Festival to be held September 20-21, 2014 at Naval Air Station North Island in San Diego, CA. Members of the media are encouraged to register early for credentials, found at http://fleetweeksandiego.org. The deadline to register is September 5, 2014.
Members of the media are invited to apply for a special 'invitation-only' MEDIA DAY on September 19, 2014. Promotional partnerships are also available. For more information regarding media relations, please contact Staci Ignell at (858) 333-1558 or signell@thegrassrootscompany.com.
ABOUT THE FLEET WEEK CORONADO SPEED FESTIVAL
The Coronado Speed Festival is part of San Diego's annual Fleet Week, an event organized to pay tribute to our nation's military and to help increase exposure to the military community in San Diego.
As part of the festival, more than 25,000 racecar fans, active duty military, veterans, and visitors from all over will line a 1.7-mile course at Naval Air Station North Island to watch nine different groups race at high speeds, visit with celebrity drivers, and enjoy vendors and activities during the two day festival.
Other highlights of the festival include a military pit crew challenge—a competition among military commands and active duty military; Navy ship tours and military displays including Navy jets and helicopters, vintage aircraft, and access to pilots for questions and demonstrations; a stunt show by Redbull-sponsored Aaron Colton; and a showing of the Robby Gordon SUPER trucks—an off-road spectacular for all ages.
There is no other event in Southern California like the Fleet Week Coronado Speed Festival. A full schedule of events, including opening ceremony information, can be found here. As this year's Fleet Week San Diego honorary chair, Jerry Sanders—president of the San Diego Regional Chamber of Commerce and former San Diego mayor—will preside over many Speed Festival activities.
The event is free to active duty military and their dependents. The general public is invited onto the base for a weekend of racing, making it the only open house offered by the Navy on the West Coast. Tickets are available here.
ABOUT THE SAN DIEGO FLEET WEEK
The San Diego Fleet Week Foundation is a nonprofit, public benefit corporation. In addition to honoring the military services through the annual Fleet Week events, the Foundation's goals are to foster awareness of the contributions made by enlisted military personnel and their families, to enhance relationships between the civilian, business and military communities, to provide events that Military personnel and their families can attend at little or no cost, and to raise funds for charitable efforts benefiting enlisted service members and their families.
For more information, or for a complete listing of all of the Fleet Week events, please click here. Fleet Week San Diego can also be found on Facebook or Twitter.
###