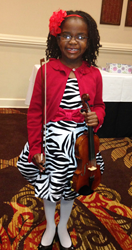 Leah is a very fast learner and a very humble little girl. She is phenomenal. I have never seen another child like her.
Sanford, FL (PRWEB) July 30, 2014
"Let It Go" has been artistically covered by many other musicians, but now it is Leah who showcases her own sensational rendition. With only twenty months of violin experience, Leah has learned at an accelerated pace.
Leah's creative inspiration to perform "Let It Go" arose after watching and enjoying the movie, "Frozen", several times. In early July 2014, Leah's father, Lennox Flynn, an accomplished musician, decided to begin practicing diligently with Leah on the hit song. To perfect bowing techniques, violin teacher, Jess McKinney, assisted Leah. McKinney is a classically trained violinist in Suzuki methodology and has received her minor in Violin Performance from Covenant College in Georgia. Leah met Jess at Orangewood Presbyterian Church, where McKinney is interning as a violinist for the summer.
McKinney shared that, "Leah is a very fast learner and a very humble little girl. She is phenomenal. I have never seen another child like her."
So how did it all begin? Leah's father, Lennox, began fostering Leah's musical ability as he taught her the piano when she was only three years old. After observing how quickly his daughter mastered the piano, he sensed she may have a gift for the violin as well. He contacted local teacher, Michelle Martin, who then started lessons with Leah shortly after she turned five. To date, Leah continues to attend weekly lessons with violin instructor, Michelle Martin, from Lake Mary, FL once a week.
Along with performing show tunes such as "Let It Go", Leah's repertoire includes a variety of hymns, classical pieces, and other popular favorites. Leah's dedication to her musical talent has granted her many successes. She learned how to vibrato after her first year of learning the violin and she became a member of the Metropolitan Area Youth Symphony Orchestra in Orlando at the age of five. She genuinely enjoys performing violin solos at churches, senior residences and school concerts.
Currently, Leah resides in Central Florida with her parents, Paula and Lennox Flynn. She is also an active member of Patmos Chapel Seventh Day Adventist Church in Winter Park, Florida. She believes in hard work and making people happy. She is also a very spiritual child who prays several times a day. During a quiet moment at home, Leah told her mother, "GOD gave me the talent of playing the violin, and I want to reach and touch as many people as I can with my talent." Hopefully with continued practice, perseverance and prayer, Leah will reach her goal. Please visit Leah's YouTube Page to view her violin cover of "Let It Go" and a collection of her other musical performances at https://www.youtube.com/user/LeahFlynnViolinist.