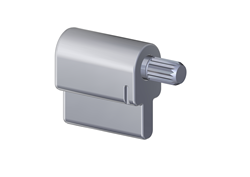 Reell's smallest package torque insert is ideal for consumer electronics applications.
Saint Paul, MN (PRWEB) August 06, 2014
Reell Precision Manufacturing, a world leader in small package position control, is proud to announce the introduction of its latest positioning innovation, the TI-C5M Torque Insert.
The TI-C5M features a compact single-fin design, and an exposed knurled-shaft for easy press-fit mounting into a wide variety of materials. Available torques range from 0.15 to 0.30 N-m, with a fully qualified life of over 30,000 cycles.
Global Product Line Manager John Schannach is excited about the introduction of the TI-C5M, "The C5M expands the range of torque insert performance. It is the smallest package torque insert Reell has developed, and opens new application possibilities in today's smaller consumer electronics products."
Reell Precision Manufacturing provides high-quality innovative solutions to transmit torque, control angular position and protect delicate components from excessive force. Combining the world's most precisely controlled torque technology with the industry's most experienced engineering team guarantees a perfect product fit for customer application. With facilities on three continents, Reell's responsive global customer service and world class manufacturing ensures exceptionally easy ordering and on-time delivery.