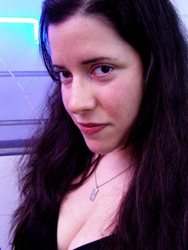 "If you liked Fifty Shades of Grey, then you'll fall in lust with Rachel Kramer Bussel's even hotter BDSM books." — Cosmopolitan
(PRWEB) July 30, 2014
Rachel Kramer Bussel, editor of The Big Book of Submission: 69 Kinky Tales, uncovered the perils of compulsive book hoarding in an article for The Toast. Jacket Copy, a literary commentary column in the Los Angeles Times, wrote their own piece on excessive book buying, and revealed that the Japanese have a special word for book hoarders: "tsundoku."
Bussel admits that she owns over 2,000 books, though none of them are collector items or rare in any sense. She theorizes that her obsession with books comes from her primary identity as a reader. Says Bussel, "Reading has always been the primary way I make sense of the world around me; books are my first stop when I want to learn about a new hobby, culture, person or world."
Meet Rachel in person at these upcoming events:
9/6, 3pm: Reading at the Foundation for Sex Positive Culture, Seattle WA
9/9, 7pm: Erotica writing workshop at the Foundation for Sex Positive Culture, Seattle WA
9/10, 7pm: Reading at She Bop the Shop, Portland, OR
9/15, 7:30pm: Reading at the Booksmith, San Francisco, CA
9/18, 6pm: Workshop at the Q Center, Portland OR
9/28: Erotica writing workshop at Early to Bed, Chicago IL
9/30, 8:30pm: Erotica writing workshop at Tool Shed Toys, Milwaukee WI
Rachel Kramer Bussel regularly writes for and appears in Salon, Jezebel, Bust, Cosmopolitan, The Huffington Post, The Daily Beast, and more. Based in New York City, she is a prolific erotica author and editor, and her titles include The Big Book of Orgasms, Best Bondage Erotica 2014, Twice the Pleasure, and Cheeky Spanking Stories. Visit her at rachelkramerbussel.com and lustylady.blogspot.com.