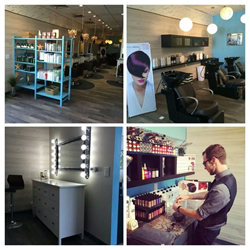 We want to create an experience.
Matthews, N.C. (PRWEB) August 07, 2014
Matthew Fascenda worked for an aerospace, defense, security and advanced technology company for 13 years. He also served in the U.S. Air Force Reserves for 12 years. But when his fiancée and business partner, Christina Haines, graduated from cosmetology school, Fascenda took an unexpected turn and decided to open a hair salon.
"Christina's background and passion in makeup artistry and cosmetology drove us to open the salon," Fascenda explained. "We wanted to give a great service in an atmosphere that's unique to us, and at an affordable price."
Using top-of-the-line products and color, Drift Salon provides hair services such as cuts, blowouts, color and deep-conditioning treatments, as well as professional makeup application, styling services for special events and bridal packages. It's a beach-inspired salon, complete with a saltwater aquarium, where guests can enjoy a glass of wine with a complimentary scalp and hand massage during their treatment. The salon also offers discounts for military, police and firefighter patrons.
"We feel that it's more than just a haircut or a hair color," Fascenda explained. "We want to create an experience."
Fascenda employed Guidant Financial to help him finance his new venture. He was referred to Guidant by the owners of NoDa Brewing Co. in nearby Charlotte, North Carolina. Using a process called Rollovers for Business Start-ups, Fascenda used funds from his existing retirement account to invest in the salon without having to take a taxable distribution.
"[Our Guidant consultants] walked us through [the process] and made it understandable for us," Fascenda said.
Drift Salon, located at 2332 Matthews Township Parkway, will host a Cut-a-Thon on Sat., Aug. 9, from 9:30 a.m. – 1:00 p.m., with 100 percent of the proceeds going to a local charity. They'll reveal the amount raised and present a check to the charity on Fri., Aug. 22, during their official grand opening celebration from 5:00 – 8:00 p.m.
To learn more about the hair and makeup services offered or schedule an appointment, visit driftsalon.com, call 704-443-0088 or email contactus(at)driftsalon(dot)com.
###
About Drift Salon
Drift Salon is committed to a culture of creativity, ongoing education, growth and extraordinary customer focus. The salon offers the ultimate experience in hair care and makeup services. Designed with the customer in mind, the salon environment provides all the comfort and amenities needed to make the experience relaxing, enjoyable and beautifying. Drift Salon's experienced stylists cater to the needs of each and every hair type. Their team also offers make-up application and special occasion styling services as an added luxury, both on- and off-site. Learn more at driftsalon.com.
About Guidant Financial
Guidant Financial helps people create the life they want through innovative small business financing. They are the premier provider of rollovers for business start-ups (ROBS). Guidant's services allow people from all walks of life the freedom to purchase small businesses and franchises using their retirement funds without taking a taxable distribution or getting a loan, in addition to offering traditional funding options such as SBA loans, portfolio loans and unsecured credit. Visit Guidant on the Web at guidantfinancial.com.