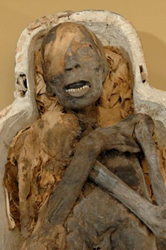 'The instrument just never stops working – I've been using it over a long period of time and it doesn't stop. It's a real workhorse.' - Dr. Ron Beckett
(PRWEB) July 31, 2014
Video borescopes are used in a multitude of industries including oil and gas, aviation, power generation and manufacturing. One unique use for video borescopes, specifically the VJ-Advance articulating video borescope by RF System Lab, is inspecting mummies; better known as "paleoimaging" or "anthropological endoscopy". Dr. Ron Beckett, along with colleague Jerry Conologue, coined the phrase and technique and has been pioneering it using flexible borescopes for over twenty years. RF System Lab is proud to announce that their VJ-Advance video borescope is being used by Dr. Beckett on current and upcoming paleoimaging research and wanted to provide a more detailed look into the subject.
"We've been using it since the 1990s. Work was done when flexible fiber scopes came out in the '70s, but it was a medical model. The '90s brought about the archeological uses – we actually have a few books on the subject, one specifically titled 'Paleoimaging: Field Applications for Cultural Remains and Artifacts.' There are several chapters on just the application of endoscopy on cultural anthropology and archaeology – artifacts and human remains," stated Dr. Beckett.
'Paleoimaging: Field Applications for Cultural Remains and Artifacts' is an excellent resource for anyone interested in gaining an in-depth look into how videoscopes are revolutionizing mummy-related field work. The following is a short excerpt from the book that provides an overview of the uses of endoscopy in mummy research: "Endoscopy can complement the radiograph, providing an image with shape, contour, color, and location of what was only a shadow on the x-ray. Additionally, the endoscope can be used to guide instruments for retrieval of tissues or artifacts from within a closed environment, such as a body cavity, coffin, or tomb. The instrumentation is portable and well suited for field imaging studies." (Beckett, Ron in Paleoimaging: Field Applications for Cultural Remains and Artifacts)
One of the main reasons that Dr. Beckett currently utilizes the VJ video borescope is because of its battery-operated, lightweight portability, which is crucial when performing field work in a limited work space such as a tomb or crypt. He also values features such as the ability to document findings with hi-resolution photographs and video, which aids in image collection of archaeological and paleopathological data. When asked about the video borescope, Dr. Beckett remarked: "The instrument just never stops working – I've been using it over a long period of time and it doesn't stop. It's a real workhorse."
In regards to the field of anthropological endoscopy, Dr. Beckett is noticing an influx of researchers utilizing video borescopes in their field work. Dr. Beckett is continually spreading awareness about his methods in hope that the trend continues. When asked how awareness is spreading, Dr. Beckett replied: "One way is workshops at major conferences – for instance, a global conference on mummy studies. Also we've really, really appreciated more and more endoscopy coming through the literature. The more we can get out there, the more people will adopt it into their scientific work. It's important to have a very versatile tool to conduct field work, which is a standard we've tried to establish. In their reporting, they say what kind of scope they use, what lens they use, and all the features that would allow me to replicate our research exactly. We are seeing more and more of that and are really happy about it."
RF System Lab is thankful that Dr. Beckett has chosen to utilize the VJ video borescope for his current and future anthropological endoscopy efforts and is looking forward to what the future holds for video borescope usage in mummy studies. Whether you are completing field work for mummy studies or inspecting a turbine engine, you can learn more about RF System Lab and their no-cost, no-obligation demo program by calling a video borescope expert at (855) 787-6966 or by visiting the RF System Lab website.