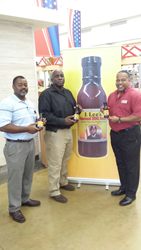 Fort Polk, LA (PRWEB) July 30, 2014
The Sauce Team (TST) of Mr. James Lee, Founder; Mr. Ashante Vereen, Sales and Marketing Director; and Mr. Curtis Jennings, Public Relations Manager, introduced J. Lee's Gourmet BBQ Sauce to the military community at Fort Polk, Louisiana. TST set up as vendors at the Post Exchange from July 17th – 19th and sold a team record 100 cases (600 bottles) of J. Lee's Gourmet BBQ Sauce in less than 25 hours. TST barely finished setting up before curious customers lined up to taste the sauce that states "A Taste That All Families Love" and "Put It On Anything". Patrons of all ages and backgrounds loved the sweet, tangy, and unique taste of J. Lee's.
TST traveled several thousands of miles in the last eight months introducing and often revisiting military installations and sampling J. Lee's Gourmet BBQ Sauce to rave reviews from new and repeat customers. Although the team had great success at every venue, they had never reached the 600 bottle (100 case) mark in such a short period of time. TST is extremely grateful to the many patrons for their purchases; as well as Mr. Clay Tsehaye, the Post Exchange Small Business Manager, for welcoming the team and their product to the facility. Many Fort Polk Exchange customers purchased the sauce in the 6-pack case container stating I "I'm going to share this with…" or "I don't want to run out", and something very familiar to the team; "this is the best sauce I've ever tasted". Customers that stated, "I don't like barbeque sauce", tasted and loved J. Lee's versatile flavor and shared their future recipe ideas. Over the last eight months TST has visited over a dozen military installations and 40-plus grocery stores multiple times and continues their motto of "Hard Work and Dedication". While negotiations continue with the Defense Commissary Agency and several other major retailers, ultimately TST wants the sauce in every major retailer available. The team understands an endeavor of that magnitude takes time, and in the meantime TST is determined to get the sauce sampled in as many states, stores, and venues as possible.
The Sauce Team sold 100 cases of J. Lee's Gourmet BBQ Sauce at an average rate of 200 bottles per day, or 24 bottles an hour at Fort Polk. Customers can stay informed on when the sauce that's sweeping the nation will be in their area by liking the J. Lee's Gourmet BBQ Sauce facebook page or following Jleessauce @Jleessauce via Twitter. Online orders are also available through: http://www.jleessauce.com.