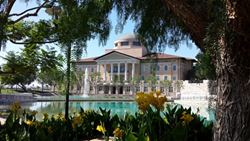 The Award for Excellence...is APPA's highest institutional honor.
Aliso Viejo, CA (PRWEB) July 31, 2014
APPA has awarded the 2014 Award for Excellence in Facilities Management to Soka University.
The Award for Excellence, which highlights the essential role of facilities operations in the overall institutional mission and vision, is APPA's highest institutional honor.
"The campuses that receive the Award for Excellence are true leaders in educational facilities management," said David Cain, APPA's Immediate Past Vice President, Professional Affairs, and the chair of the Awards and Recognition Committee. "These institutions demonstrate a commitment to providing a strong learning environment that supports its educational direction."
The APPA Award for Excellence is designed to recognize and advance excellence in the field of educational facilities. Award for Excellence nominations are in the areas of: leadership; strategic and operational planning; customer focus; information and analysis; development and management of human resources; process management; and performance results. Nominated institutions also submit to a site review conducted by an awards evaluation team.
Other 2014 recipients of the Award for Excellence are University of New Mexico, University of Michigan, Philadelphia University, and University of North Carolina at Charlotte.
Award recipients were recognized during the 2014 APPA Annual Conference and 100th Anniversary celebration in San Diego, July 21-23, 2014.