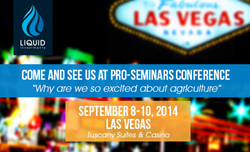 (PRWEB UK) 30 July 2014
Liquid's Senior Investment Consultant, Charlie Kermer will present at the Tuscany Suites and Casino, on Monday the 8th from 10 – 10:50 am, where he will discuss – "Why are we so excited about agriculture".
Charlie will address the following:

Why the time is right to consider agriculture as an asset class
Food as a primal need to mankind and how the desire to feed oneself is greater than any other
Food demand is being driven by rapidly growing populations, as well as the attractive supply-demand dynamics
Liquid's Chief Commercial Officer, Wayne P. Kurtz, will also be present to discuss the investment projects, as well as details about offshore tax.
Wayne Kurtz commented, "On behalf of Liquid Investments, Charlie and I are delighted and excited to be participating in this year's Pro-Seminars event. We look forward to highlighting why investing into agriculture provides multi-faceted diversification to your portfolio, as well as meeting our clients and prospective investors."
Note to Editors:
Liquid Investments is a British owned and operated business headquartered in Knightsbridge, London and with an office in Fortaleza, Brazil. The company provides global investment solutions allowing institutional and private investors to accumulate wealth through safe and secure alternative investments in emerging markets.
Liquid's investment process is driven by 'Liquid Investment Theory' (LIT), a refinement of Modern Portfolio Theory, itself used in one form or another by all fundamentally driven investors. LIT focuses on investing in tangible alternative assets providing a greater degree of security (such as asset secure farmland), with products that deliver a consistently higher level of returns (currently double digit annual yield) to a wide variety of end-user markets.
Pro-Seminars is a Canadian company specializing in continuing education and training for Insurance and Financial Services Professionals.
For further information, please contact –
Jayshree Badhan – Chief Marketing Officer
Jayshree.badhan(at)liquid-investments(dot)com
Wayne P. Kurtz – Chief Commercial Officer
Wayne.kurtz(at)liquid-investments(dot)com