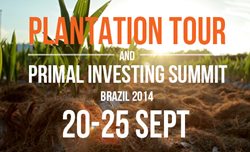 'We are delighted that Jim Rogers will be joining us in Brazil at a particularly exciting time for our company. His expertise as a legendary investor and astute financial markets commentator is well known.' - Anthony J. Archer, Liquid Investments CEO
(PRWEB UK) 31 July 2014
The inevitability of rising consumer demand together with shrinking levels of available farmland will drive the value of agricultural land and food prices much higher:

A 70% expansion in global food production will be needed by 2050, and food prices are forecast to rise by 60%
The demand for more protein in developing economies is altering the strategic balance of what is grown, and where
A complex and growing issue is access to fresh water. Brazil has the world's largest freshwater supplies
The global geopolitical environment has deteriorated significantly in 2014, with implications for long-term food security
Farmland the size of California is being lost every three years due to erosion, higher levels of salt in the soil and other forms of land degradation.
With increasing uncertainty in mainstream financial markets, join Liquid Investments this September in Brazil on their annual Plantation Tour and Primal Investing Summit. Liquid's Chief Guest will be Jim Rogers, investment guru and co-founder of the Quantum Fund, and who is widely considered as one of the most astute investors Wall Street has ever known.
Already a global powerhouse, and soon to become both the world's fifth largest economy and consumer market, Brazil will also be the largest exporter of agricultural foodstuffs by 2020. Find out about the exciting agricultural investment opportunities in Brazil with alternative asset specialists, Liquid Investments at their Tour and Investment Summit. Find out more about the Tour and Summit.
If you can't make it to Brazil, you can find out what Liquid's current investment options are by:

Email: tours(at)liquid-investments(dot)com
Telephone: +44 (0) 20 7084 7421