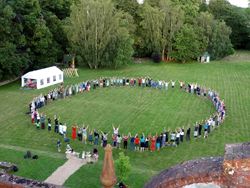 ... there are so many other things I could pick out which reflect the obvious love and care which went into organising this celebratory event: fireside check-ins, soul-stirring songs, magical costumes, new friendships, fireworks and feasting.
Dorset, UK (PRWEB) July 30, 2014
On June 13-15, MKP-UK & Ireland marked its landmark twenty years of transformative men's work last month at Gaunts House in Dorset, UK. The intention: to honour MKP-UK & Ireland's founders and celebrate this milestone achievement by integrating men, women and children into a memorable weekend event.
The sun shone, connections were fortified and joyful space was created by an attendance of nearly 200 guests!
The ManKind Project (MKP) UK and Ireland is one of 9 global regions of the ManKind Project, an organization that is "Changing the world, one man at a time." According to the organizations literature, MKP conducts trainings that challenge and deconstruct damaging male stereotypes and provides men with a forum to look at the past, heal old patterns of behaviour, and take responsibility for creating a better future for themselves and the ones they love.
"It was truly amazing and very, very special. Thank you from the bottom of my heart for allowing me to spend a weekend in the company of my whole family, knowing that everyone would be held with love and respect...a good time had by all!" said Elizabeth.
Men and women from many associated and like-minded communities shared space where all were welcome, encouraged to connect, celebrate, and create a shared vision for the future. Members of Woman Within, Women in Power, A Band of Brothers, Boys to Men, Shadow Work and A Write to Freedom stood alongside ManKind Project brothers, friends and family.
"What an incredible weekend!! There were so many moments when I was stuck by what was unfolding and saw the imagination, care and creative thinking that had clearly happened in order for each of those moments to manifest as they did. So I thank you for all the hours of dreaming, talking, planning and typing that made all it come to life. I'm still feeling so nourished and enriched by all I experienced and know that will reverberate for a long, long time," said Rebecca
Several participants remarked that the space felt 'magical.' The physical space of the venue: Gaunt House offering peaceful backdrop—guests camped on lush grounds or slept inside the magnificent house. They feasted together on lawns and under marquee draped in blue, white, yellow and red. They reveled at the Ceillidh, danced to MKP leader John Kurk's 'The 4 Directions' band, were graced by a glorious choir, were engaged by a 'social' clown who enriched the weekend by connecting people with their own inner-clown, and they found moments to be grounded in ritual. Space of trust was also fundamental to enable co-gender groups to circle, a Red Tent be erected, and sweat-lodges (men's, women's and co-gender) to hold sacred ground.
Fireside storytelling engaged all ages, and drum circles rallied in a walled garden.
Passionate people generously shared their interests and knowledge. Workshops were packed: meditation, yoga, 5-Rhythms, Ayurveda, and Woman Within nurturing space. Vets Journey Home traveled from the USA to talk about healing veterans; one ManKind Project leader presented mythodrama, another gave opportunity to delve into the four archetypes; MKP International's Chairman, David Kaar, presented the 'oldest archetype' in his Dragon Workshop.
"I got to experience a couple of sessions, knowing that [my son] was in a safe space and experiencing the same energies that have made my life so rich. The Fathers' honouring circle was a definite highlight for me–hugely moving and affirming–but there are so many other things I could pick out which reflect the obvious love and care which went into organising this celebratory event: fireside check-ins, soul-stirring songs, magical costumes, new friendships, fireworks and feasting." [Nick]
Into the mix, the presence of children injected an abundance of youthful energy—they giggled in the pool, jumped in a bouncy castle, crafted sovereign crowns and colourful art to wear and admire, and draped a huge hundred year-old tree in a parachute with delight. Children and adults honoured loved ones on Father's Day, followed by a ceremony to honour men and women from communities who have passed on.
"It felt really great to be part of the team. I enjoyed helping get the fireworks started. I thought the site was amazing and I loved playing in the pool." [Gabriel, age 8]
"I thought the whole weekend was lots and lots of fun. I felt privileged to be part of the team. There was a great atmosphere and I loved being around such lovely people throughout the weekend." [Amber, age 10]
Celebrate 20 followed through with its intention: the work of MKP-UK & Ireland was heralded, sacred space created and a unified bond of all in attendance formed lasting memories. Guests traveled from afar--Belgium, Germany, Croatia, France, Switzerland, Ireland, America and beyond--so C20 was indeed a truly global event.
Celebrate 21 is now set for 2015, building on this year's inaugural success, promising to bring expanded ideas, fresh energy and celebration for all to enjoy together. The journey continues.
The Celebrate 20 Team - William Devine, Rob Barker, Melissa Kelly, Hugh Newton, Rachel Barker, Simon Hinkly, Jamie McKelvie, Ben Atkinson, Tony Wilkinson
The ManKind Project is a global nonprofit training and education organization and is not affiliated with any religious practice or political party. MKP strives to be increasingly diverse and culturally aware. Learn more about the ManKind Project at http://mankindproject.org.