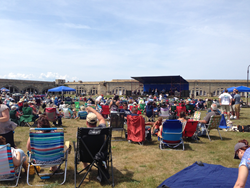 A Surreal Setting With Dramatic Lighting Highlighting the Grand Walls of the Historic Fortress
Newport, RI (PRWEB) July 29, 2014
Newport, Rhode Island is a music-lovers paradise during the summer. In this spirit, The Fort Adams Trust has amped up entertainment at the Fort this season. Building on a successful June 29 event featuring John Cafferty and the Beaver Brown Band, another classic rock lineup featuring Rick Derringer promises to Rock the Fort to a new level! Join friends at the Fortress for great Rock and Roll, adult beverages, concert casual food, and fun.
The Friday night August 29th event features Classic Rock's Rick Derringer, RI's own Hey Nineteen -Tribute to Steely Dan, Rhett Tyler and Early Warning and Chakulla and the Hunger Bus. A surreal setting with dramatic lighting highlighting the grand walls of the historic fortress adds to the experience. Sunset over Narragansett Bay makes the experience complete.
The event is a 21+, but bring your ID anyway. Park policy requires all people to be checked, no matter what your age.
Concert producer Dale DeJoy, notes, "Rick Derringer is one of the great original classic rockers. He was just 17 when his band The McCoys released 'Hang on Snoopy' and knocked 'Yesterday' by The Beatles out of the top spot. You'll really enjoy hearing him revisit some of his classic hits like 'Rock and Roll Hoochie Koo.' Rick also played with greats like Alice Cooper, Richie Havens, Todd Rundgren, Steely Dan, Cindi Lauper and even Barbara Streisand. This is one talented performer."
Cara Wortley of Fort Adams Trust shares in the excitement over the upcoming concert saying, "You'll enjoy a food court staffed with local artesian vendors. Newport Storm Beer, Thomas Tew Rum and Newport Vineyards will be served, and Chakulla and the Hunger Bus will play, collecting for the Rhode Island Community Food Bank. We're incorporating the Food Bank into this great music event because as a National Historic Landmark and a State Park, it's important to give back to the people who support us."
Sponsored by: Arden Engineering, Meller Optics, Ale House Cigars, Greenwich Bay Oyster Bar, Sons of Liberty, Newport Storm, & Newport Vineyards.
Ticket price: $25 in advance, $30 at the door
For more info go to: http://www.newportrocksthefort.com
For tickets go to:http://www.fortadamstickets.org