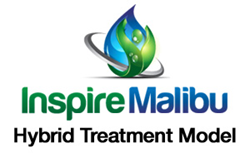 It's time to bring the treatment of alcohol and drug use disorders into the 21st century
Malibu, California (PRWEB) September 09, 2014
Dr. A.R. Mohammad, CEO and founder of Inspire Malibu, proudly announced today that Inspire Malibu has officially implemented their industry shifting Hybrid Treatment Model (HTM), establishing Inspire Malibu as the world's first "Hybrid Drug and Alcohol Treatment Center". Inspire Malibu's 'Hybrid Treatment Model' combines the latest pharmacotherapy treatments with the proven power of evidence-based psychological therapy; a powerful hybrid approach that until now did not authentically exist.
Pharmacotherapy, also known as Medication Assisted Therapy, is the use of appropriate pharmaceutical medications to help reduce the cravings for drugs and or alcohol during treatment and recovery. Only possible when implemented by accredited and proven medical experts, Dr. Mohammad's Hybrid Treatment Model and Hybrid Drug and Alcohol Treatment Center are being touted by addiction insiders as the future of effective addiction medicine and treatment.
"It's time to bring the treatment of alcohol and drug use disorders into the 21st century," said Dr. Mohammad, a board-certified psychiatrist with a specialty in addition medicine. "Science now provides extremely effective tools for stopping the cravings that persist during recovery and more often than not, effective management of those overwhelming cravings is the difference between a successful detox and relapse. Today, with a multidimensional approach, administered under proper medical supervision, addicts can manage their disease and lead normal productive lives."
Dr. Mohammad is a national authority on the treatment of alcohol and drug addiction, and personally teaches the addiction medicine classes that all students and residents are required to take as part of their curricula at the famed Keck School of Medicine of University of Southern California (USC) in Los Angeles.
In general, the term "hybrid" is defined as something created by combining two different elements. In the field of addiction and psychiatry, Dr. Mohammad and his team of addiction experts at Inspire Malibu have coined the term 'Hybrid Treatment Model' (HTM) to refer to the use of both psychotherapy and pharmacotherapy in tandem to treat alcohol and substance use disorders. Inspire Malibu's 'Hybrid Treatment Model' is especially effective when treating co-occurring disorders, which are best described by someone suffering from both alcohol substance misuse as well as a psychiatric condition such as depression, bi-polar, anxiety, post traumatic stress disorder and attention deficit disorders.
Traditionally, treatment for a psychiatric condition or addiction was in the form of either psychotherapy or pharmacotherapy, but not necessarily both. Using one or the other can result in a successful outcome; however, countless scientific studies and Dr. Mohammad's own, unparalleled clinical experience has shown that when both are used together, the outcomes are far more successful. According to the government's Substance Abuse and Mental Health Services Administration, the combined treatment results in improvements that include:

Increased treatment retention
Decreased opiate use
Improved birth outcomes
Decreased criminal activities
Improved survival
Currently, only 10% of the roughly 15,000 rehab centers nationwide offer any kind of evidence-based treatment for alcohol and drug addiction. While a small percentage of treatment centers do offer pharmacotherapy and psychological counseling, Inspire Malibu's 'Hybrid Treatment Program' is the first to offer the full scope of advanced addiction medications and evidence-based counseling for both alcohol and drug addiction, and not only for detox but relapse prevention and maintenance as well.
Among the FDA-approved relapse prevention medications used in the 'Hybrid Treatment Program' are Acamprosate Antabuse, Naltrexone, Suboxone and Vivitrol. Dr. Mohammad was the first doctor in CA to use Suboxone for opiate withdrawal and maintenance therapy, beginning in 2003. Moreover, the 'Hybrid Treatment Program' utilizes Neurofeedback and Transcranial Magnetic Stimulation, two non-invasive treatments that clinical studies have proven to be effective in maintenance therapy and the treatment of co-occurring disorders including depression.
"We've found that patients not only respond to treatment sooner with our multidimensional Hybrid Treatment Model, but outcomes are longer lasting while minimizing discomfort along the way. It is exactly the evolutionary step the treatment community needed and our team is honored to be part of it," said Dr. Mohammad.
More information visit: Inspire Malibu Hybrid Treatment Center.