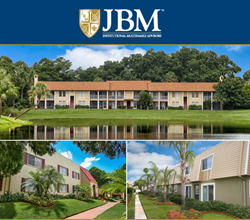 These assets will appeal to a variety of private national, regional and local operators due to the rare ability to obtain a critical mass of significant apartments throughout Florida. - Jamie May
(PRWEB) August 04, 2014
CEO & Chairman, Jamie May of JBM™ Institutional Multifamily Advisors, an investment advisory and brokerage services firm dedicated exclusively to the multifamily sector, announces that it has been retained to handle the sale of The Landmark Portfolio (the "Portfolio") consisting of the following three properties in Florida: Avondale by the Lakes in St. Petersburg, Landmark at Savoy Square in Clearwater and Courtyards on the River in Tampa. The Portfolio is comprised of 782 units and offers the rare ability to immediately obtain a critical mass of multifamily units in the Tampa Bay MSA in one transaction.
The Properties are situated in central locations in the Tampa MSA nearby major demand drivers and minutes away from their respective market's central business districts. The immediate locations are characterized by high-barrier-to-entry neighborhoods where surrounding areas are built-out and densely developed. However, the properties are sufficiently spread out in different submarkets, minimizing exposure to any one major employer or industry as well as large concentrations of new multifamily supply.
The consistent cash flow and high occupancy of each Property positions the Portfolio to provide excellent stable returns and allows investors to focus on additional improvements to generate rent increases and other income. The Properties all have excellent curb appeal that would make any property manager proud, with each asset having its own unique physical characteristics and building structures, which provide for positive portfolio diversification.
About JBM™ Institutional Multifamily Advisors
JBM™ Institutional Multifamily Advisors is the most reliable source of brokerage services in the institutional multifamily asset and investment industry with Florida offices located in Tampa, Orlando, and Naples. JBM™ specializes in high-rise, mid-rise and garden style apartment communities throughout the Southeast United States and focuses exclusively on asset disposition services, capitalization and recapitalization of existing and merchant development opportunities of large apartment type portfolios and singular assets for Domestic and Foreign Institutional, Private National and Regional clientele. The firm's collective team efforts have exceeded $8 Billion and over 101,000 apartment units listed, marketed and sold. The firm delivers a strong legacy of excellence in representation and the most effective investment sales platform throughout the Southeast United States, meriting Jamie May and JBM™ as a trusted leader in the multifamily industry.
Interested parties who would like more information about these properties or to schedule an interview with Jamie May, please contact Claudia Raines at 813.812.5003 or via-email at Claudia(dot)Raines(at)JBM(dot)com. To learn more, please visit: JBM.com.