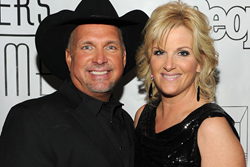 Denver, Colorado (PRWEB) July 30, 2014
They first met back in 1989, when a young Yearwood sang back-up vocals for a raw new talent named Garth Brooks. Then in 1990, she sang support on Brooks' second album No Fences and served as opening act on the rising star's 1991 nationwide tour.
Several years later, when they found themselves suddenly single at the same time, their undeniable connection turned romantic and they married in December 2005. Today, the couple can claim five Grammy Awards, 11 Country Music Awards, 16 American Music Awards and 14 Academy of Country Music Awards between them.
"According to the RIAA, Garth Brooks is the second best-selling solo album artist in the U.S. behind Elvis. He's ranked third in global sales behind the Beatles and Presley with 134 million albums sold. He is also one of the best-selling artists of all time with more than 190 million albums, singles, and videos to his credit."
"That's why we're proud to be able to offer concert-goers the most comprehensive and continuously updated selection of discount tickets online, with a Worry-Free Guarantee to protect their purchase," added Ault.
"To access our complete listing of cheap Garth Brooks and Trisha Yearwood tickets, as well as all of the seating options offered, customers can go to BuyAnySeat.com and search for Garth Brooks and Trisha Yearwood, then select their tickets."
Troyal Garth Brooks was born February 7, 1962 in Tulsa, Oklahoma and was the youngest child of Troyal, a draftsman and Colleen, a country singer who recorded for Capitol Records. As Brooks was growing up, his family hosted weekly jam sessions and all of the children were expected to participate by doing skits or singing.
Brooks released his eponymous first album in 1989 and it peaked at Number Two on the U.S. country album chart while climbing to 13 on the Billboard 200. With his unique integration of rock elements into his recordings and live performances, he achieved immense popularity; and this progressive approach allowed him to dominate the country single and album charts while crossing over into the mainstream pop arena.
Brooks broke records for both sales and concert attendance throughout the 1990s. His recordings continue to sell well; and, according to Nielsen Soundscan, his album sales (officially at 69,544,000 as of May 2014), make him the best-selling album artist in the U.S. in the SoundScan era.
Patricia Lynn "Trisha" Yearwood was born and raised in Monticello, Georgia to Gwendolyn, a school teacher, and Jack, a local banker. She grew up listening to country artists Patsy Cline, Kitty Wells, and Hank Williams; and, in elementary school, she sang in musicals, choir groups and talent shows.
After high school, she attended the University of Georgia and then transferred to Belmont College in Nashville. While at Belmont, she obtained an internship with MTM records and eventually recorded several demo tapes and sang backup for emerging artists including Brooks.
Yearwood rose to fame in 1991 with her debut single, "She's in Love with the Boy". She is best known for her ballads about vulnerable young women that have been described by some music critics as "strong" and "confident".
In 1997, Yearwood recorded the song "How Do I Live" for the movie Con Air. It became her signature song and won Yearwood a Grammy. She has also recorded successful duets with husband Brooks, including "In Another's Eyes", which won the couple a Grammy as well.
Aside from her success in music, Yearwood has also written three successful cookbooks and is a two-time New York Times Bestselling author. She has also hosted an Emmy Award-winning culinary series on Food Network called Trisha's Southern Kitchen since 2012.
To shop for discount Garth Brooks and Trisha Yearwood tickets, visit BuyAnySeat.com. To save to even more, enter coupon code "BAS2014" during checkout.
About BuyAnySeat.com: An online discount ticket marketplace, BuyAnySeat.com connects sports, theater and other live entertainment fans to an extensive worldwide network of ticket sellers. The site's simplified listings and navigational tools enable fans to easily locate, compare and purchase inexpensive, discounted or lower-priced tickets to virtually all advertised sports and entertainment events around the globe.
The marketplace, which is PCI-compliant and Norton Secured, also provides customers with a complete Worry-Free Guarantee on all ticket purchases. Based in Denver, Colorado, BuyAnySeat.com is a subsidiary of Denver Media Holdings. For more information, please visit http://buyanyseat.com.