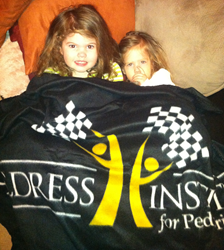 Kids need a champion and there are ways we can save more injured kids' lives
Winston-Salem, NC (PRWEB) August 13, 2014
Quicken Loans has selected the Childress Institute for Pediatric Trauma as one of three charities to benefit from its "Paint Your Way to Dover" online contest that started yesterday. The contest coincides with the Childress Institute's sixth anniversary and helps highlight the need for more support.
"Any child can get seriously injured anywhere and at any time and you don't always have time to travel long distances for the best care," said Richard Childress, chairman and CEO of Richard Childress Racing and co-founder of the Childress Institute for Pediatric Trauma. "Unfortunately, not all hospitals in the U.S. have the resources and training they need to effectively treat severely injured kids. Kids need a champion and there are ways we can save more injured kids' lives through the programs funded by the Childress Institute for Pediatric Trauma. We are grateful to Quicken Loans for recognizing this need and including the Institute in the contest."
Fans can vote on three paint scheme options for the No. 31 car of Richard Childress Racing driver Ryan Newman being raced at Dover International Speedway on Sept. 28, as well as select a charity to potentially receive $10,000. Help the Childress Institute raise awareness about the needs of seriously injured children by visiting Quicken Loans "Paint Your Way to Dover" site at QLRacing.com and share on Facebook and Twitter. Voting ends Aug. 23.*
Significant strides have been made to improve the treatment of injured children in the U.S. since the Institute started in 2008, and future programs include:

Continuing to fund third year of the groundbreaking youth football research that is garnering national recognition
Results from the Childress Summit of the Pediatric Trauma Society held in 2013 will be published later this year
Received funding for facilitating a substantial education partnership that will provide improved pediatric trauma care to thousands of children in eastern N.C.
Hosting a second Childress Summit for pediatric trauma leaders from across the U.S. to continue mapping the medical needs of injured children
The Childress Institute was founded through the generosity of NASCAR team owner Richard Childress and his wife Judy. Its mission is to discover and share the best ways to prevent and treat severe injury in children.
###
About the Childress Institute for Pediatric Trauma
The Childress Institute for Pediatric Trauma helps injured kids get the best care, when they need it the most. Life-threatening injury is the No. 1 killer of kids in America causing nearly 10,000 deaths each year — more than all other causes combined. The Childress Institute invests resources in research, education and awareness to improve the treatment for critically injured children in the U.S. The Childress Institute was founded at and receives considerable support from Wake Forest Baptist Medical Center, and was established through the generosity of Richard and Judy Childress. For more information, please visit http://www.InjuredKids.org.
*Visit Quicken Loans' site for full contest rules.