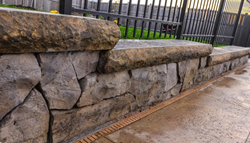 "This kit is a must have for any of my students and anyone getting started in this concrete craft. Highly recommended." – Nathan Giffin of Vertical Artisans
Morris, IL (PRWEB) July 30, 2014
Walttools' Tru Tex Texturing tools for concrete have been around for a few years now as single pieces or assorted kits, but a dedicated artisan's kit has always been a need. The purpose of this kit is to provide the contractor with all of the needed basic tools to approach a job entailing stone facing and carving of concrete. This is a needed addition to our other kits in terms of actual contractor convenience. Included in the kit is an array of Tru Tex roller sleeves, texture skins and texture trowels that focus on stone facing.
These stone textures will give provide the contractor with all the variety and authenticity needed to reproduce the look of natural stone. Many of the accessorial textures available in the larger kits have been removed to make room for more essential pieces and to maintain a targeted price point. Some of these essential are all the basic masonry hand tools used for the job such as a pool trowel and point trowel.
Additionally, Walttools is including the premier application tool available for carving cements. The 3 Jet Wall Gun by Mortarsprayer.com is the artisans' choice for quickly applying decorative concrete mixes and plasters to their surfaces. This tool improves both job efficiency and quality. "The choice of the Jet Wall Gun was perfect for its light weight and versatility in the field with various sized air compressors." says Nolan Shield, owner of Mortarsprayer.com.
Vertical concrete is a fast growing segment of decorative concrete and the number of contractors adding this creative discipline to their work resume increases daily. The new Vertical Concrete Artisan tool kit will just allow them to create for their clients easier than they ever could before.