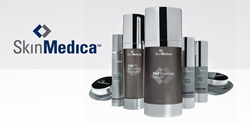 The impact is clear - fine lines are reduced, age spots and discoloration fade, and skin texture and elasticity is improved.
(PRWEB) July 31, 2014
SkinMedicaCoupon.com announces the launch of their website to provide consumers a dedicated informational hub pertaining to the most respected, innovative, and results-oriented anti-aging skincare product line in the United States of America.
While still in "start-up" mode, this site is poised to share a variety of free SkinMedica product information such as exclusive offers, discounts, recent news, product highlights, celebrity endorsements, study results, and more.
For over 10 years, SkinMedica® has been developing innovative skin care treatments that help rejuvenate skin. Their best selling products have been featured in Elle, INSTYLE, Self, People, Web MD and many other magazines and television shows including The View and The Today Show to name a few.
What sets SkinMedica apart from all other skincare brands, is it's the leading brand of skincare and anti-aging products provided and approved by doctors and dermatologists across the U.S. and Canada.
SkinMedica founder, world renowned dermatologist Dr. Richard Fitzpatrick, is a pioneer and an innovator in the use of lasers in skin rejuvenation and a leader in dermatology for over 30 years. His work gained him special recognition by Allure magazine as a beauty industry visionary; one of the "physicians who most influenced beauty."
Manufactured in the USA, SkinMedica's aesthetic product line is based on the science of the skin's own healing abilities. As skin ages, elasticity decreases, lines appear and overall appearance is diminished. To counteract the effects of time, these skin care products contain restorative ingredients that work below the skin's surface to regenerate the health of the skin.
SkinMedica's scientifically proven recovery compounds include essential ingredients, ranging from vitamins C and E to retinol to TNS, (their patented blend of growth factors) soluble collagen, antioxidants and matrix proteins. The impact is clear - fine lines are reduced, age spots and discoloration fade, and skin texture and elasticity is improved. All results of their commitment to creating a lifelong skin care solution for healthier skin.
In 2013, SkinMedica® was acquired by Allergan, a global, multi-specialty health care company with leading portfolios in eye care (such as Latisse), neurosciences, medical dermatology, medical aesthetics, obesity intervention and urologics.
About Allergan, Inc.
Allergan is a multi-specialty health care company established more than 60 years ago with a commitment to uncover the best of science and develop and deliver innovative and meaningful treatments to help people reach their life's potential. Today, there are approximately 11,700 highly dedicated and talented employees, global marketing and sales capabilities with a presence in more than 100 countries, a rich and ever-evolving portfolio of pharmaceuticals, biologics, medical devices and over-the-counter consumer products, and state-of-the-art resources in R&D, manufacturing and safety surveillance that help millions of patients see more clearly, move more freely and express themselves more fully. From their beginnings as an eye care company to the focus today on several medical specialties, Allergan is proud to celebrate more than 60 years of medical advances and proud to support the patients and physicians who rely on our products and the employees and communities in which we live and work.