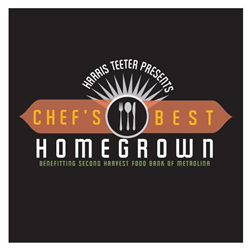 Charlotte, N.C. (PRWEB) August 06, 2014
Chef's Best is returning to the Charlotte Convention Center Crown Ballroom on Sept. 5, 2014, and will once again feature Charlotte's best chefs, helping to raise funds for hunger relief. The theme this year is "homegrown" and pays tribute to the people, products and businesses started in North Carolina, just like Harris Teeter and Second Harvest.
Participating chefs include: Charlotte native Chris Coleman of The Asbury at The Dunhill Hotel; Gene Briggs of Blue Restaurant & Bar and Osso Restaurant & Lounge; Tom Condron of The Liberty and Lumiere French Kitchen; Bruce Moffett of Moffett Restaurant Group which includes Barrington's Restaurant and Stagioni; and Ashley Quick of Stagioni.
A select number of Harris Teeter's local vendors will sample their products during the reception catered by International Culinary School at the Art Institute of Charlotte. These local vendors include Augusta's Creations, LLC; Julia's Southern Foods; Mac's Speed Shop; Roots; Queen City Bakery; Cassandra's Garden and Dee Dee's Gourmet.
Harris Teeter and Second Harvest would also like to offer a special thanks to the Charlotte Convention Center and its culinary team, as well as the evening's Banquet Sponsors and in-kind donors:
Banquet Sponsors:
ARYTZA
Blue Cross and Blue Shield of NC
Burt's Bees
Chobani
Dawn's Foods
E. & J. Gallo Winery
John and Peggy Schug
Mark Anthony Brands, Inc.
McCormick
MillerCoors
Sargento
Sorrento
Steve and Susie Marlier
Wenner Bakery
The Wine Group
Main Course Sponsors:
3fish, Inc.
Anheuser-Busch
Butterball
Campbell Soup
Constellation Brands
D.G. Yuengling & Son, Inc.
Jackson Family Wines (Kendall Jackson)
PepsiCo Warehouse Sales
Pernod Ricard USA
Pinnacle Food Sales
Sierra Nevada Brewing Co.
Tryon Distributing Company
Utz Quality Foods
Maître D' Sponsors:
Craft Brew Alliance
Frito Lay
Land O' Frost
Meyer Natural Foods
Pabst Brewing Co.
Post Foods
Smithfield
Snyder's-Lance
In-Kind Donors:
Anheuser-Busch
ARYZTA
Cargill
Coca-Cola
E. & J. Gallo Winery
MillerCoors
Mooresville Ice Cream Company
To learn more Chef's Best or to purchase tickets to the event, click here.
About Harris Teeter
Harris Teeter, with headquarters in Matthews, N.C., is a wholly-owned subsidiary of The Kroger Co. (NYSE: KR). Harris Teeter reported 2013 sales of $4.71 billion. The regional grocery chain employs approximately 26,000 associates and operates stores in North Carolina, South Carolina, Virginia, Georgia, Tennessee, Maryland, Delaware, Florida and the District of Columbia.