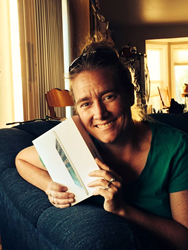 Atlanta, GA (PRWEB) July 31, 2014
Professional Photographers of America (PPA) recently announced Heather Sams, a Certified Professional Photographer (CPP) from Fountain, Colo., as the winner of the Benchmark Survey monthly drawing.
Sams won an iPad mini for her participation in the survey this past June. "When I found out that I won, I thought it was the coolest thing ever," she said. "It was super easy to participate, but winning an iPad really takes the cake. I was on cloud nine!"
PPA's Benchmark Survey is the only industry-specific financial survey, and helps thousands of businesses understand how to be more profitable by providing a clear picture of what a successful business looks like. It gathers photographers' financial data, and PPA accountants carefully analyze it before publishing and explaining the results.
Having worked in the photography industry for over a decade, Sams previously used the Benchmark to put together a business plan when starting her own portrait studio seven years ago. "What's great about Benchmark is that it puts all the industry information, analyzes the success traits of the most profitable practices and puts it all in one location that businesses can easily use for their own planning and projections," she said.
Since building up her business, Sams knew the importance of the survey to her success. "It's such an extensive tool that photographers can access to strengthen their business that it just made sense for me to take the time to do it."
As a true dedicated professional, Sams already has plans to incorporate the iPad mini into her business. "I photograph executives, and they like seeing portraits and galleries immediately. Having a device that can make this happen will be great for my business through tethering, or as a portfolio showpiece," she said. "I'm grateful that I had the chance to participate in the survey."
PPA's Benchmark Survey makes it easy for businesses to compare their studio's performance to certain benchmarks, set goals and make management decisions. In addition to having access to a compilation of all the data collected, an in-depth analysis of such data, and five easy-to-digest survey summaries, those who participate and enter their financial information into the Benchmark Survey receive two incentives: a free side-by-side comparison of their studio's financial data to the Benchmark overall results; and an automatic entry into monthly drawings of prizes of value similar to the iPad mini won by Sams.
To participate in the Benchmark Survey and enter for a chance to win the August prize, a $500 gift card to B&H, visit PPA.com/Benchmark.
About PPA
Professional Photographers of America (PPA) is the largest international non-profit association created by professional photographers, for professional photographers. Almost as long-lived as photography itself, PPA has roots that date back to 1869. It assists close to 27,000 members through protection, education and resources for their continued success. See how PPA helps photographers be more at ppa.com.