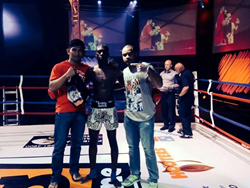 "I know what I need to improve and I have to say, I had a lot of fun in that ring." Keemaan Diop, Thai Championship Boxing Champion
Chantilly, VA (PRWEB) July 30, 2014
Keemaan Diop (Crazy 88 MMA) defeated Joel Regignano (Capital MMA) by Split Decision to retain his 145 lb Title Belt at Thai Championship Boxing 8. Diop, a resident of Columbia MD, moved his record up to 5-1 with the victory.
Diop was able to utilize his punches and kicks against Regignano who utilized more of the classic clinch work that characterizes Muay Thai. This was Diop's first title defense at TCB, a promotion which runs events in the Northern Virginia Area. Diop won the 145 lb earlier in the year over at the time undefeated Alvin Mercer.
After the fight, Keemaan had this to say, "I know what I need to improve and I have to say, I had a lot of fun in that ring. On a journey right now. Thanks for the love and support! Have a great night everyone!"
Also on the card were two other Maryland Muay Thai Kickboxers from Crazy 88. Both also won their bouts and joined Diop in the winner's circle.
Muay Thai is style of kickboxing that allows not only punches and kicks, but also knees and elbows. It is considered one of the most effective styles of martial arts and has exploded in popularity over the past few years.
Keemaan Diop is an instructor and student at Crazy 88 Mixed Martial Arts, a chain of gyms in the Baltimore area of Maryland. He focuses primarily on Muay Thai Kickboxing but plans to move into MMA style competition in the future.