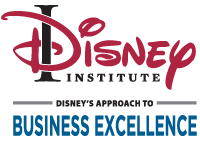 Des Moines, Iowa (PRWEB) July 30, 2014
Bringing Disney Excellence to Central Iowa is the goal of a September event hosted by the Central Iowa Chapter of the Association for Talent Development (ATD), formerly ASTD. Disney Institute is bringing its renowned professional development course, "Disney's Approach to Business Excellence," to Des Moines on September 16, 2014. The full-day world class workshop will inspire area professionals from businesses large and small to drive business results, retain employees and satisfy customers.
"Disney 'magic' as I call it is a proven model for business success. Attendees pay more than $1000 plus expenses to visit the Disney Institute," says Alan Feirer, ATD Central Iowa's president. "We are pleased to bring this opportunity to Central Iowa at significant savings so businesses of all sizes and shapes can learn how to make Disney 'magic' work for them."
The full-day "Disney's Approach to Business Excellence" program introduces participants to five core Disney business principles:

Disney's Approach to Leadership Excellence – Strong leadership is fundamental for organizations to grow and succeed. Participants will explore strategies and methods for improving team results through proven leadership philosophies that are used to exhibit the values and behaviors that generate results.
Disney's Approach to Selection, Training & Engagement – The Disney corporate culture instills pride and ownership in Disney Cast Members (employees). The same can be true for any organization looking to inspire and motivate employees. Participants explore the Disney approach to selection, training, retention and communication, all of which sustain a supportive and interactive culture.
Disney's Approach to Quality Service – Participants discover how Disney exceeds expectations through its service infrastructure, ongoing research and established service standards.
Disney's Approach to Brand Loyalty – The relationship between consumer experiences and a company's brand is vital and can generate superior bottom-line results. Participants explore strategies that deliver on an organization's brand and retain customers for life.
Disney's Approach to Creativity & Innovation – Focused on strategies and tactics that have helped Disney maintain its creative and innovative culture.
The session will be held at the DMACC Success Center, 1111 E. Army Post Road from 7:30 a.m. to 4:30 p.m. Registration is $399 per person and includes all course materials, as well as lunch. Those who register by July 30th will get $40 off the price and with added group discounts, groups can attend for as little as $299 per person. For more information or to register, visit http://www.astdiowa.org/event-878067 or http://goo.gl/52bLNj.
This event is made possible through sponsorship from:

DMACC, Lead Educational Sponsor
McLellan Marketing Group, Lead Corporate Sponsor
ARAG, Corporate Partner Sponsor
Greater Des Moines Partnership, Corporate Partner Sponsor
Business Record, Media Sponsor