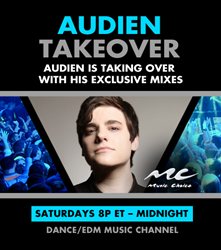 New York, NY (PRWEB) July 30, 2014
Music Choice continues its DJ Residency program on the very popular Dance/EDM Music Channel with Audien taking over the entire month of August. Audien will kick off his residency Saturday, August 2nd from 8pm ET until midnight. Music Choice's Dance/EDM Music Channel attracts over 1.4 million listeners weekly and is available in over 50 million homes. #MCEDMAudien
Audien stated: "I've been to countless house parties where Music Choice is playing DJ and providing the soundtrack. My Mom practically has an entire TV dedicated to Music Choice Smooth Jazz. So, I'm beyond excited to take over the Dance/EDM channel in August, and share some of my favorite tracks, along with a couple exclusive mash-ups, and a few unexpected classics."
As part of the residency program, Audien will be taking over Music Choice's Dance/EDM Music Channel every Saturday night, August 2 through August 30th, from 8pm ET until midnight. Audien will provide a four hour block of mixes each week featuring some of the hottest dance artists including Above & Beyond, Porter Robinson, Calvin Harris and many more. In addition to the music, customized facts and photos of Audien will appear on screen to accompany the music mix. #MCEDMAudien
Since bursting onto the scene in 2011, 22 year-old Audien has stolen the hearts of dance music fanatics worldwide. Armed with Audien's signature uplifting melodies, songs including Leaving You (Armada), Hindsight (Anjunabeats), Circles (Armada), & Serotonin (Spinnin') have become radio, club, and festival staples. Recent remixes of artists including Michael Jackson, Bastille, & Bruno Mars, have further cemented the opinion of fans and critics alike, that Audien is a uniquely masterful producer. Audien will bring his explosive live show into Electric Zoo, Tomorrowworld, Das Energi, and other festivals in the coming months.
Music Choice kicked off its DJ Residency Program in March 2014 and has featured popular DJ's including Vice, MAKO, Gareth Emery and many more. Additional DJ's will be announced throughout the year. To listen to the Takeover Block online, visit: http://bit.ly/MCDanceEDM.
About Music Choice:
Music Choice, the multi-platform video and music network, delivers its music programming to millions of consumers nationwide through their televisions, online and mobile devices. Music Choice programs dozens of uninterrupted music channels; produces originals that feature today's hottest established and emerging artists; offers thousands of music videos; and launched Music Choice Play, the music video, lifestyle and entertainment network for Millennials. For additional information, log on to http://www.MusicChoice.com | Twitter: @MusicChoice | Facebook: http://www.facebook.com/MusicChoice.