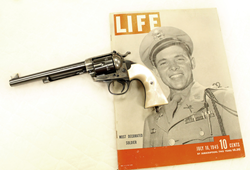 [Gary] Cooper even had a mold taken so the gun would perfectly fit Murphy's hand.
Cody, Wyoming (PRWEB) August 04, 2014
Receiving the loan of the "Audie Murphy revolver" at the Cody Firearms Museum brings to mind a biography that melds soldier and actor. Audie Leon Murphy (1925 – 1971) wore many hats—war hero, movie star, and veterans' advocate. Born June 20, 1925, to an impoverished family in Texas, he held a lifelong desire to serve in the military. In 1942, he forged his age in order to join the infantry at 17 years old, after the Marines and paratroopers denied his application due to his small stature.
Rising to the rank of First Lieutenant, he fought in nine major campaigns throughout Europe. In three short years, Murphy earned every possible U.S. Army military combat award for valor, in addition to medals from France and Belgium. His gallantry is even more impressive given that victory in Europe was achieved before his 21st birthday.
"Life" magazine placed him on their cover in 1945, and actor James Cagney saw the article and invited Murphy to Hollywood. While initially reluctant to act, Murphy became a star, performing in more than forty films and receiving critical praise for his role in the 1951 movie version of Stephen Crane's Civil War novel The Red Badge of Courage. Furthermore, his wartime memoirs were adapted for the 1955 movie "To Hell and Back," in which he played himself.
Success, however, did not make him immune to combat's aftermath. He suffered from Post-Traumatic Stress Disorder, known then as "combat fatigue," to such an extent that he slept with a loaded pistol under his pillow. Murphy shared his struggles in the hopes that better awareness of the issue would make it easier for Korean and Vietnam War veterans to return to civilian life. His advocacy for increased government research and funding on stress disorders is evident by the 1973 dedication of the Audie L. Murphy Memorial VA Hospital in San Antonio, Texas.
At just 45 years old, Murphy perished in a private plane crash near Roanoke, Virginia. On June 7, 1971, he was buried at Arlington National Cemetery. His gravesite is the second most-visited within the cemetery, after President John F. Kennedy's gravesite.
The Center of the West is proud to display Murphy's single-action revolver and encourages visitors to check out the mother-of-pearl grip panels, which are particularly thick. Cooper even had a mold taken so the gun would perfectly fit Murphy's hand. The display of this firearm is a part of a larger Cody Firearms Museum project to expand its Hollywood Guns Exhibit.
For more information, contact Ashley Hlebinsky, Assistant Curator, Cody Firearms Museum, at ashleyh(at)centerofthewest.org or 307-578-4048. Read more about the Cody Firearms Museum on the Center's website.
__________________________________________________________________________________________________ Since 1917, the award-winning Buffalo Bill Center of the West has devoted itself to sharing the story of the authentic American West. The Center, an affiliate of the Smithsonian Institution, is now operating its summer schedule, open daily 8 a.m. – 6 p.m. For additional information, visit the Center's website or the Center's pages on Facebook and Google+.