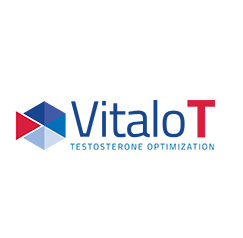 'About 13 million men over the age of forty suffer from low testosterone.' -Dr. David Hensley
Arlington, Texas (PRWEB) July 30, 2014
VitaloT, (pronounced vitality,) is a testosterone optimization center scheduled to open August 25th, 2014 in Arlington, Texas. Low testosterone (lowT) has become recognizable as a highly treatable medical condition but currently men in Arlington, Texas have to travel to another city to receive treatment. VitaloT is opening its doors in the area to provide a convenient location to help men regain their vitality.
"About 13 million men over the age of forty suffer from lowT alone," says Dr. David Hensley, "Every man should know their testosterone level, just as you should know your cholesterol, blood pressure and other measurements that reflect your health. Normal testosterone is between 350 – 1200; a number below 350 plus accompanying symptoms is safely treatable for most patients and can represent a real improvement in overall health and quality of life." Dr. Hensley has been practicing clinical, surgical, and cosmetic dermatology in the Arlington, Texas area for 15 years and is the Chief Medical Officer for VitaloT.
As men age their testosterone levels begin to decline annually and they experience weakness, a lack of energy, and a lessened ability to perform both athletically and in the bedroom. On the first visit, VitaloT will evaluate the client's symptoms and confirm diagnoses of lowT with a simple blood test. Once diagnosis is confirmed, VitaloT, covered by most insurance, will start treatment on the spot. VitaloT will also help men maintain their health and appearance with Dr. Henley's extensive clinical and cosmetic dermatological expertise.
His expertise, along with that of VitaloT's team of medical professionals, will help clients gain back their vitality so that they may look and feel their best. To learn more about testosterone optimization visit VitaloT.com.