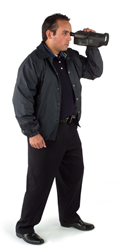 they just don't make infrared cameras like this anymore.
Las Vegas, NV (PRWEB) July 31, 2014
SPI Corp has been blowing away the competition for over 15 years in the thermal imaging market, and now they're planning to do it again with the release of a huge cache of Palm IR 250 thermal cameras. They are available in full kits and will ship immediately. These completely refurbished infrared cameras are no longer being produced but that doesn't mean they are no longer in demand. According to Randall Kolchins, Director of SPI Corp, "they just don't make infrared cameras like this anymore."
And Randall Kolchins is absolutely correct.
A survey of current thermal imagers on the market reveals that the microbolometer sensor has become the only sensor available. While thermal cameras have become smaller and cheaper as a result certain performance parameters have been sacrificed. It is widely accepted that microbolometer technology has a very narrow dynamic range. This means that they can only image a very small difference in heat so images can be washed out if the sky and ground are in the same scene. BST technology is apparently impervious to this phenomenon with a super wide dynamic range. Microbolometers are also said to be more delicate to viewing high temperatures and can even be completely destroyed by looking briefly at the sun. The BST technology boasts complete solar immunity with the inherent ability to view super cold and super hot objects with no damage. 
Mr. Kolchins also went on to explain, "The Palm IR 250 has such a wide dynamic range you can literally stare at the sun shining over an iceberg, and not sacrifice any image quality whatsoever. You just can't overload these things, no matter how hard you try."
The Palm IR 250 infrared cameras for sale are available in two models, the IR 250 and IR 250 D. They both feature a compact design with video output, however the IR 250 D has digital zoom & image processing sharpness. This is the perfect opportunity for consumers to conduct their own energy audits without having to pay top dollar for similar models that do not produce the same quality thermal images.
"It has always been our goal to try and keep costs down for our customers," says Jim Santana, Sales Manager of SPI Corp. "There's a lot of law enforcement out there on strict budgets, too, and we're happy to be able to provide them with the tools they need without breaking the bank. Plus the units are handheld, they're easy to take along for security and surveillance. They're even used for search and rescue. They're the best infrared cameras made out there, hands down."
SPI Corp has been manufacturing and distributing thermal imaging solutions for law enforcement, scientists and the military for years, including PTZ infrared security cameras, thermal scopes and night vision equipment. "It's only a natural progression that this technology be available to the average American consumers," says SPI Corp's Lead Product Technician, Al DiMarco. "A few years ago, no one thought we'd all be carrying cell phones around. Now it's no big deal. Thermal imaging camera prices are on the way down, and that's good for all of us."
Potential customers interested in more information on infrared cameras for sale, thermal imaging camera prices or purchasing these amazingly low priced infrared cameras can visit SPI Corp's full product catalog at: http://www.x20.org. Customers seeing immediate assistance with these or other thermal imaging products should contact Jim Santana at 702-369-3966.