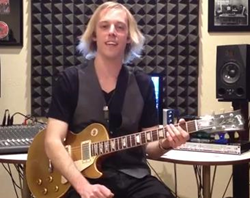 (PRWEB) July 31, 2014
A Capo, short for capotasto, which is Italian for "head of fret board", is a device used on the neck of a fretted instrument to shorten the playable length and raise the pitch.
Jon talks about all of the various types of Capo's that are available for the guitar and how to attach them. MacLennan demonstrates by using various chord voicing's why it is necessary sometimes to use a capo to get the desired pitch or key of a song or chord. Capos are used by many artists to simply change the key of a song to fit their own personal vocal range or to compensate for a lack of chord vocabulary. For example if you put a capo on the 2nd fret of a guitar and play an open A chord it is actually a B chord because of the capo moving the pitch up one whole step. If a guitarist is in a rut and wants to get a new feel and sound for the guitar they can simple put a capo on a high fret and strum open chords and it will sound vastly different, similar to a ukulele. More info about guitar and capos can be found at GuitarControl.com.
Jon MacLennan
Los Angeles based guitarist Jon MacLennan began his career at the age of 16 and is one of the busiest upcoming session guitarist, artist, composer, producer, and professional educator in LA. Jon has done session work for Julian Lennon, Steven Tyler, and British pop star Jamie Cullum. He has appeared on Disney channels "The Suite Life of Zack and Cody" and on the sound track to the movie "Marley and Me 2 – The Puppy Years". MacLennan earned a bachelor's in ethnomusicology and jazz guitar studies from University of California, Los Angeles, and has been mentored by Carl Verheyen, Wolf Marshall, Kenny Burrell, Anthony Wilson, Tamir Hendelmen, Jimmy Wyble and Ron Anthony which has made him a highly sought after guitar instructor today.
About GuitarControl.com
GuitarControl.com is the leader in modern guitar instruction. It's packed with recourses including articles, video lessons, and the best videos in the business for the beginner to the advanced guitar student taught by the best instructors out there. Weather you are into the blues, rock, jazz, metal, folk, or anything in between, they have you covered.